More in this section

↓
Upcoming Events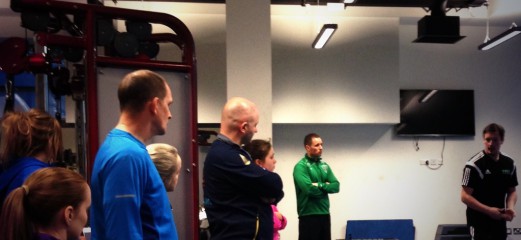 North West Coaching Forum
Wednesday 3rd October, Alley Theatre, Strabane, 6.30pm – 9.30pm
Local sports coaches and volunteers will have the opportunity to hear from some leading coaching experts, including gold medal-winning athletics coach Stephen Maguire and skill acquisition specialist Dr Ed Coughlan as guest speakers.
Stephen Maguire returns to his home town of Strabane after a period of immense success in his sport of athletics. He is the current Head Coach for Sprints, Hurdles and Relays at British Athletics, and coached the Team GB men's 4x100m relay team to World Championship gold in 2017. His success saw him named Coach of the Year at the BBC Sports Personality awards in December. Stephen is no stranger to success, having previously coached Eglinton Paralympic sprinter Jason Smyth to multiple gold medals at the Beijing and London Paralympic Games. In June of this year he was appointed Director of Performance and Coaching at Scottish Athletics.
Dr Ed Coughlan is a skill acquisition specialist interested in making the practice environment more effective. Since returning to Ireland a few years ago he has worked as a coach consultant to national governing bodies such as Cricket Ireland, Tennis Ireland, Irish Rugby, among others. His work with athletes focuses on the creation of task specific training environments that maximise the likelihood of their effort transferring to the performance space. As a lecturer of sport science and coaching science at Cork Institute of Technology, he leads a research team in the domain of skill acquisition for the search of evidence to guide best-practice for the development more effective coaching strategies. His primary focus while working with coaches is to empower them to become more comfortable to step back in order to allow their athletes to explore and problem solve effective solutions.
Admission is free however limited spaces are still available. Registration can be completed online at https://coachingforum18.eventbrite.co.uk  
North West Club Support Programme
This programme is designed to support sports clubs to build capacity and develop their current infrastructure. Support will be provided in the form of 4 club development workshops and a mentoring session for clubs wishing to achieve accreditation. The aim of each workshop is to provide information and guidance on a range of issues which are deemed important by many sports clubs. Club representatives can register for each of the workshops by clicking the links below. Each workshop is free to attend.
Workshop: Sport Club Volunteer Management Monday 24th September: Waterfoot Hotel, Derry, 7-9pm This workshop designed to help club recruit, develop and recognise committee members more effectively. It covers key areas that are required to build a strong network of volunteers within your club, specifically committee members, as well as the abundance of helpers who sometimes do the small things that make the big difference. It will give you the opportunity to share your own good practice with others and pick up new ideas. The workshop is aimed at sports club representatives who may have a role in the recruitment, support & development and recognition & reward of club volunteers that the club needs to develop, manage, administrate and lead their club. Link: https://sportsclubvolunteer.eventbrite.co.uk
Workshop: Generating Club Income Wednesday 14th November. Melvin Sports Complex, Strabane, 7-9pm Having a realistic and clear understanding of your clubs' sustainable income can generate a vital ingredient of good financial management. A great way of ensuring your income is sustainable is to get it from a variety of sources including, membership fees, sponsorship fundraising, commercial partnerships and grant funding. This seminar covers:
Tips and ideas on how to generate income for your club from a range of sources
Advice on how to create partnerships to increase income generation
Guidance on what sponsors and funders are looking for when complete grant applications.
Link: https://generatingclubincome.eventbrite.co.uk
Club Mentoring Clubs wishing to avail of the mentoring session can express their interest by emailing Michael Cooke at michaelcooke@sportni.net *In order to receive the mentoring session clubs must have registered for Clubmark NI and ensure representatives have signed up for each of the 4 workshops.
Back to top

↑