More in this section

↓
Funding and Support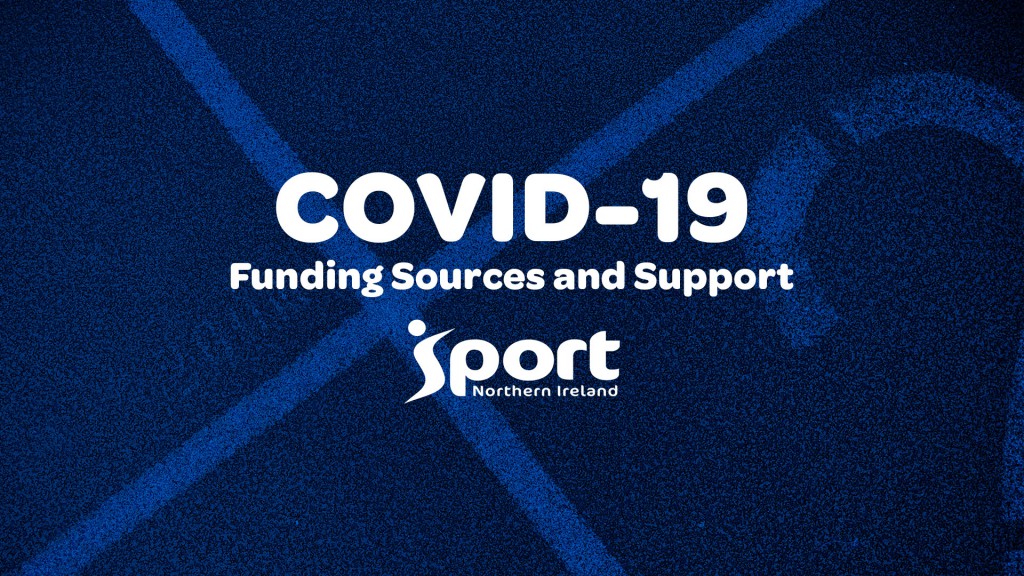 Funding and Support
We know this is an incredibly difficult time and the impact on our sporting partners has been immeasurable, Sport NI continues to work with the Department for Communities and with you, our partners, to get a fuller picture about the impact coronavirus (COVID-19) is having on sport, and respond with a phased approach to interventions and remedies.
Please continue to keep us informed on your issues and impacts of COVID19 at: coronavirus@sportni.net
It is highly likely some targets set for this year will not be achieved under the current circumstances.  Sport NI recognises this and will not have unreasonable expectations considering what sports can achieve this year.
Sport NI is working hard on a range of ways to flexibly support your organisation through this crisis and beyond, and commits to having a single point of contact within the organisation for such situations. Please discuss any issues with your point of contact within Sport Northern Ireland.
Other Funding Sources and Support
There are also other sources of funding and support that we would draw you attention to below:
Northern Ireland Policing Board – Police Property Fund
Have you got a project that needs funding?
The Police Property Fund Small Grants Scheme will be opened on Thursday 18 March 2021 and will offer eligible projects grants of between £1000 and £10,000.
 What is the Fund?
The Police Property Fund is made up of assets recovered by the PSNI as a result of criminal investigations, and administered by the Board in line with the Police (Property) Regulations NI 1997.
Funding available will be administered in both Small Grants and Large Grants calls. The first call will administer £100,000 total in funding for Small Grants.
Is my project eligible?
Applications for funding will need to demonstrate that the project:
Engages with local police;
Contributes to building community safety and/or confidence in the police in your area; and
Is aligned to a charitable purpose.
How do I apply?
Full details of how to apply and all application documentation will be published at the same time as the Scheme's launch.
If you'd like to find out more about the Scheme, make sure you register for the launch webinar on Thursday 18 March by emailing rsvp@nipolicingboard.org.uk
National Lottery Community Fund
The National Lottery Awards for All programme, is looking to support projects that are responding to the COVID-19 pandemic by:
supporting organisations to adapt or diversify to respond to new and future challenges
supporting communities adversely affected by COVID-19
supporting communities and organisations to become more resilient to help them to respond better to future crises.
Although we are supporting responses to the pandemic, your project does not have to be related to COVID-19 to be funded.
If you are applying for something that is not related to Covid-19, then your project must meet at least one of our usual funding priorities, which are:
Bring people together and build strong relationships in and across communities
Improve places and spaces that matter to communities
Help more people to reach their potential, by supporting them at the earliest stage
Dormont Accounts Fund NI
Dormant Accounts Fund NI will support the voluntary, community and social enterprise (VCSE) sector in Northern Ireland to be more resilient and prepared for the future by funding activity that increases capacity and sustainability. The programme aims to support organisations to adapt to future challenges and be more financially resilient.
Given that this is a rolling fund, a phased and long-term approach to support the sector is being taken, based on learning. Potential applicants are encouraged to take their time in developing an idea which will best fit their needs for the future.
The programme is open for applications from 12 January 2020. There is currently no deadline to apply. Apply Here
The National Lottery Community Fund are keen to speak to you about your application, so contact us if you would like to talk through your idea first.
Tourism NI/Discover NI
Tourism Recovery
Tourism NI has launched a tourism recovery marketing campaign based around Staycations. Holiday at home; Support local businesses in NI; Re-connect with family and friends; Enjoy the Outdoors & Coastal adventures. With this promotion of outdoors activities by Tourism NI, what Experiences, Destinations, Accommodation, and Food and Drink would you like to discover. Discover more at Discover NI. For more information on Outdoor Recreation Activities visit Discover NI things to do/activities
Good To Go Campaign
Tourism NI have also launched a Good To Go campaign and logo. The UK wide industry standard 'We're Good to Go' was developed to provide reassurance to customers and demonstrate commitment to implementing relevant government and public health guidance in relation to Covid-19. The scheme has been developed in partnership with Visit England, Visit Scotland and Visit Wales to ensure a common approach across the UK. Please find below the hyperlinks to the registration:
https://covid19.tourismni.com/goodtogo/ and https://goodtogo.visitbritain.com/your-business-good-to-go-northern-ireland
NI Business Info
Invest NI
Mitigate the impact of COVID-19
This page is an online resource for our customers and Northern Ireland businesses affected by the global coronavirus pandemic.
You can access the latest support from the UK Government and Northern Ireland Executive here, as well as existing financial, capability development and advisory support available from Invest Northern Ireland.
Collectively, these programmes will mitigate the immediate impact of COVID-19 on your business, help you to adapt and survive this unprecedented crisis, and prepare for recovery. We are also working with the Department for the Economy and our stakeholders to develop tailored support that will ensure businesses build their operational and financial resilience.
Underpinning this support is our business information website, nibusinessinfo.co.uk, with a dedicated section offering coronavirus updates on the latest government support and official guidance including details of financial support schemes, policy information and comprehensive advice on key business areas to help manage the current challenges.
Department for Communities
Sport Northern Ireland Project Re-Boot: Activate
Crowdfunder and Sport Northern Ireland have teamed up to make £650,000 of match funding available to support the sports sector through the ongoing coronavirus crisis and help sport in Northern Ireland Build Back Better. Details on this fund are available at Sport Northern Ireland: Project Re-Boot | Crowdfunder UK
COVID-19 and DfC Services 
The latest information about COVID-19 and DfC Services including Jobseekers Allowance, Universal Credit, Personal Independence Payment and Employment & Support Allowance. It will be updated regularly with the latest information, so you should check this page for advice on Benefits and other public services.
Boost Charitable Trust
Boost Charitable Trust builds on over-looked Sporting Talent, to champion the disabled and disadvantaged and to inspire them to overcome their challenges through the power of sport.
Volunteer Now
Volunteer Now have also published some information sheets for more guidance when involving volunteers and volunteering during the Coronavirus crisis.
Armagh City, Banbridge & Craigavon Borough Council's Community Development
Armagh City, Banbridge & Craigavon Borough Council is offering financial assistance of up to £1,000 to organisations in the voluntary, community and social enterprise sector through a Covid-19 Community Support Grant to support community-led initiatives aimed at providing relief to those affected by the Coronavirus pandemic.  In particular it will support actions in line with the following interventions:
Financial – to those on low income and at-risk due to financial stress.
Connectivity – to those living alone or in rural and border areas that are likely to experience greater challenges in accessing services.
Food – access to food (whether due to cost or availability) for those most in need.
Armagh City, Banbridge and Craigavon Borough Council have developed an online information and advice service for residents of the Borough to help with the ongoing Coronavirus COVID-19 response. This includes Business Support, Community Engagement and Health & Wellbeing plus latest updates on all Council Services. This can be accessed via www.armaghbanbridgecraigavon.gov.uk/coronavirus/
Within the Community Engagement section, there is a Local Support Directory where Armagh City, Banbridge and Craigavon Borough Council are trying to assess the requirements of existing community organisations and charities in order to support the important work that you are doing within your own areas. Armagh City, Banbridge and Craigavon Borough Council would like to encourage all groups that are carrying out vital work at grass-roots level to add their details to this directory at www.armaghbanbridgecraigavon.gov.uk/support-for-community-organisations/ The information you provide will help ensure that regional and central government have a clear understanding of the needs of those working on the ground and also help residents in the Borough to find out what services are available to them. If you do require additional support, please complete the online form and include this information.
Volunteer Now launched a new campaign '#HelpEachOther' to encourage organisations to register their specific virus related, safe opportunities which will then be promoted to individuals who would like to help.
The latest funding through Grant Tracker
Community Relations Council
Grants of up to £10,000 are available to community development groups, cultural organisations, women's groups, church groups, tenants' associations and youth groups to help them to develop their capacity and confidence to engage in community relations work and to enhance the community relations potential of projects they undertake.
The Community Relations Council, with the support of Government, has established a fund of approximately £400,000 to spend each year on community relations projects. This grant scheme seeks to increase the ability and confidence of groups and organisations to identify and address issues that divide communities, to encourage the development networks of communication, trust and co-operation and to promote models of good practice for community relations work in Northern Ireland.
Grants may be awarded towards the cost of the following:
Community events, festivals, residential activities.
Seminars, workshops or discussion groups.
Fees for trainers, speakers, artists or facilitators.
Basic travelling costs within the North and South of Ireland.
Venue hire and catering costs.
Resource materials.
Bursaries for community relations practitioners to attend conferences. (These are limited to one bursary per year for an individual from an applicant group).
The closing date for the CRCD Grant Scheme is the 1st November 2021. Funds are limited so early application is recommended. Apply Here
Potential applicants that have any questions or would like to discuss a proposal prior to submitting an application please contact a member of the Funding & Development Programme. Phone 028 9022 7500 or email funding@nicrc.org.uk
Cash 4 Clubs
Cash 4 Clubs has teamed up with Made by Sport to offer the opportunity for community sports clubs and organisations across the UK to receive £2021 in unrestricted support through the 'Clubs In Crisis' fund. The fund open towards the end of March, in line with the unlocking of grassroots sport in the UK. For more information please go to https://cash-4-clubs.com/2021-clubs-in-crisis
The Lord's Taverners
The Lord's Taverners is the UK's leading youth cricket and disability sports charity dedicated to giving disadvantaged and disabled young people a sporting chance.  Their sporting roots are within cricket, but they also have relationships with a wide range of other sports including rugby, tennis, squash, basketball and boccia. Lord Taverners can be contacted via their website https://www.lordstaverners.org/
Halifax Grant Programmes
Our Community Grants Programme can support day to day activities of a charity and new/existing projects, however we will also support charities to REACT to this pandemic, PREPARE to reopen services or adapt their services accordingly, and to RESTORE/RENEW in order to deliver what may be for many, a new way of life.
Our average grant in 2020 was £3,925. We may not be in a position to offer you all what you need, however we will discuss viability with you. Please continue to understand what other charities and the government is doing in your field, and ensure that what you propose fits in.
Grants are only open to charities operating in Northern Ireland. Please do not apply if you are serving another region of the UK or beyond.
In order for organisations to be eligible, they must have an income of less than £1 million as shown in most recent set of accounts. (For registered charities with a Headquarters based outside Northern Ireland, the income of their Northern Ireland operation will be the figure used to assess eligibility).
Charitable Status
The following groups may apply:
Charities registered with the Charity Commission
Charities 'deemed' on CCNI's combined list
'Non-deemed' on CCNI's combined list, provided they can supply their HMRC letter confirming charitable status.
For more information on how to apply please go to https://www.halifaxfoundationni.org/programmes/community-grant-programme
The National Lottery Community Fund
Charities and community organisations across the UK are facing increasing challenges due to COVID-19. We want to support those we fund as far as is possible at this difficult time.
A quick way to apply for smaller amounts of funding between £300 and £10,000 in Northern Ireland for Voluntary or Community Organisations and Public sector organisations.
The Community Foundation Northern Ireland
Coronavirus Community Fund in Northern Ireland. CFNI want to support community groups working together; particularly in smaller geographical communities. CFNI therefore encourage a partnership approach, and one application from one lead organisation, rather than a number of separate applications.
Neighbourly.com: Covid-19 Community Fund
With support from M&S Family (including M&S Bank and M&S Energy), Lidl, Aldi, Danone UK & Ireland and Coca-Cola European Partners, Neighbourly are launching a series of micro-grants of up to £400, for existing members of Neighbourly in UK and Ireland whose work involves supporting members of the community suffering economically, socially or from ill health as a result of the outbreak. This may include, but not be limited to, elderly people, those on low incomes and people at risk of food insecurity.  Grant are unrestricted and can go towards food provision, emergency supplies, practical support, running costs, transport and other essentials. For more details and to apply see the website
Enkalon Foundation Coronavirus Community Support Fund
The Enkalon Foundation will move the focus of their modest funding pot to charities and community organisations helping people who are isolated and vulnerable in their local communities at this difficult time. As a small funder they focus their funding based on their core objectives in the former Antrim Borough Council area. All potential applicants need to contact the administrator directly with an outline of the new or existing project.
Enkalon Foundations range of interests are:
-       The advancement of amateur sport;
-       The advancement of education;
-       The advancement of health and of saving lives;
-       The advancement of citizenship or community development;
-       The advancement of the arts, culture, heritage or science;
-       The relief of those in need by reason of youth, age, ill-health, disability, financial hardship or other disadvantage; and
-       The advancement of animal welfare.
Athletics NI
Athletics NI have put together some useful information on a 'Coronavirus Advice' page to help assist our clubs, athletes, coaches and officials during the Coronavirus outbreak in Northern Ireland. This also all of Athletics NI's Return to Sport documents and various links to supporting information.
This page will be updated on a regular basis, to reflect the latest guidance from the Government and Public Health Authority and can be accessed via https://athleticsni.org/Coronavirus-Advice
Ulster Rugby
Please find some useful information and guidance for member clubs here. Ulster Rugby is aware of the challenges faced by member clubs due to the ongoing impact of the COVID-19 pandemic, and that the situation may place some clubs in a difficult financial situation. This page aims to signpost clubs to potential support during this challenging period, and it will be updated on a regular basis to reflect the latest guidance from the IRFU, government and health authorities.
Rugby clubs requiring further information should contact: clubsupport@ulsterrugby.com
Ulster GAA
Covid-19 Support
The resource available at the following link, https://ulster.gaa.ie/covid-19/ provides key information for our clubs and members during these extraordinary times.
British Gymnastics
Coronavirus Support for Clubs
We would ask that governing bodies with links to support pages send them to: cornovirus@sportni.net so we can add to this list.           
                           Maintaining Organisational Health
ICO
ICO: Data Protection and Covid – 6 key steps
NICVA
NICVA have produced further support for the Voluntary and Community Sector through the COVID-19 pandemic. This can be accessed at https://www.nicva.org/covid19
Tips for Holding Virtual Meetings during COVID-19
With the current uncertainty around the impact of Covid-19 and the limitations on travel and face to face meetings, most boards and board committees (as well as many other bodies) will for the foreseeable future have to meet virtually. With this in mind, we have provided some handy tips to remember when conducting virtual meetings.
Holding your AGM during COVID-19, Advice and Guidance
What COVID-19 might mean for your AGM – and how to plan for it?
At the end of June The Corporate Insolvency and Governance Act 2020 brought in special temporary rules to allow companies to hold their AGMs and/or special general meetings online until the end of September, even if their governing documents prohibited it.   This temporary measure has now been extended to 30 December.  It may be advisable for organisations to use this extension period to hold a special general meeting to update their governing documents to allow general meetings to take place electronically given the uncertainty around when large gatherings for meetings etc will be allowed.
https://www.gov.uk/government/publications/corporate-insolvency-and-governance-bill-2020-factsheets/annual-general-meetings-and-other-general-meetings
For organisations that are based in and operate within the Republic of Ireland
As part of its response to difficulties faced by businesses during the COVID-19 crisis, the Companies (Miscellaneous Provisions) (Covid-19) Act 2020 (the "Act") was enacted and commenced on 21 August 2020.  This Act contains measures that will provide entities with some flexibility in relation to operational and governance matters during the current pandemic.
The Act, for the most part, temporarily amends the Companies Act 2014 (the "2014 Act") and the Industrial and Provident Societies Act 1893 (the "1893 Act") so that, notwithstanding challenges posed by the pandemic, entities can continue to operate in compliance with relevant provisions of those Acts.
Nature of the Amendments
The impact of the COVID-19 crisis on entities varies depending on the nature of any particular business.  Nonetheless, directors, shareholders and other stakeholders must continue to be able to communicate with each other and take decisions, maintain filings and execute documentation despite restrictions on travel, physical meetings and attendance at workplaces.  The Act seeks to facilitate this by modifying the law relating to companies' annual general meetings ("AGMs"), extraordinary general meetings ("EGMs") and creditors' meetings.  It also makes certain amendments to examinership and winding up.
Broadly, the provisions apply for an interim period from 21 August to 31 December 2020.  It is proposed that this period could be extended, from time to time, at the request of the Minister for Business, Enterprise and Innovation, having consulted with the Minster for Health, if they are satisfied that such an extension is in the public interest.
Back to top

↑