More in this section

↓
Governing Body Support Programme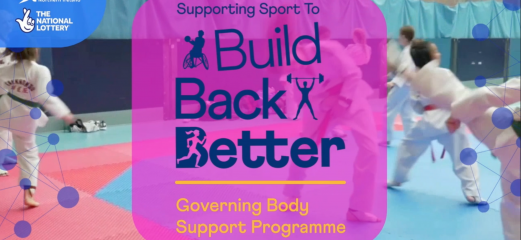 What is the Governing Body Support Programme?
This Governing Body Support Programme has been developed as part of Sport Northern Ireland's (Sport NI) response to the Covid-19 pandemic through its 'Supporting Sport to Build Back Better' initiative, funded by the National Lottery.
The Programme will provide an investment opportunity for Recognised Governing Bodies to enable them to engage with and support their Clubs and their Workforce, with a particular focus on coaches, officials and volunteers, using tactics and interventions to either sustain club membership at existing levels or to grow them by 31st March 2022. The programme has also been designed to help governing bodies prepare for future investment opportunities.
Further Information
To find out more, please read the Information and Guidance notes carefully. To access the Information and Guidance Notes, please click below:
Guidance Notes – Governing Body Support Programme
Some key points from the Information & Guidance notes have been summarised below:
Who can apply?
To make a submission to the Governing Body Support Programme, your organisation must be able to demonstrate it meets both of the following requirements:
Your organisation is a Sport NI recognised governing body of sport. (for more information please click here)
Your organisation did not receive Sporting Clubs Programme investment for the period 2017-21 
How much investment is available?
The programme will offer investment from £5,000 – £30,000 to Recognised Governing Bodies to engage with and support their club environment in Northern Ireland. Investment will be commensurate with the club membership of the sport and will be subject to assessment.
Where are we now?
The programme is now in the Proposal Development phase (Friday 5th February – Friday 5th March 2021) of the application process.
During this phase, Sport NI will engage directly with those applicants that have submitted Expression of Interests, in regard to the development of their Proposals and with further detail through Information Clinics.
What happens next?
The deadline for receipt of completed Proposals (Inc. all documentation) is 4pm on Friday 5th March 2021.
GBSP – Frequently Asked Questions
(Frequently Asked Question document will be updated at the end of every week.)
If you need help or if you have any questions in the meantime, please email sportingclubs@sportni.net
Back to top

↑