More in this section

↓
Supporting Sport To Build Back Better – Project Re:Boot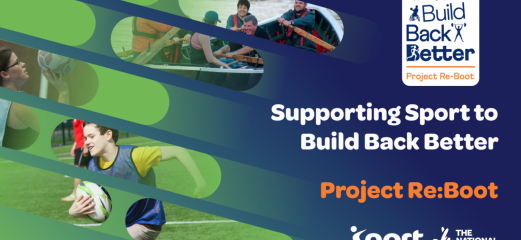 Project Re:Boot
Sport NI is delighted to announce Project Re-boot as part of the initiative 'Supporting Sport to Build Back Better.'
Project Re:Boot:Team Up is now closed for applications
Project Re:Boot: Activate is the next phase of funding to help clubs and community groups Build Back Better. This investment programme has been set up to support the sports sector through the ongoing coronavirus crisis in Northern Ireland.
This investment aims to support projects and initiatives that are creative and innovative and will engage or re-engage people back into sport, specifically those who have been most adversely affected by the pandemic. Applications should focus particularly on people from at least one of the following priority groups:
For more information on Project Re:boot Activate please click here or if you have any questions please contact by email: projectreboot@sportni.net
Background:
Sport NI's Clubs Survey Report identified key areas for support including membership, volunteers and coach development, governance, finance and facilities. The addition of COVID-19 has amplified a number of these issues and so, in May 2020, Sport NI launched a second survey to better understand the range of current and anticipated future challenges. Survey findings highlighted the need for a strengthened sport and recreation sector through innovation and creativity to continue to develop the issues identified in the 2019 survey. In response, and following further consultation Sport NI have developed the initiative 'Supporting Sport to Build Back Better' with the following outcomes:
• A strengthened, more connected sporting and recreation sector with increased capability; and
• An innovative sporting and recreation sector, confident with new ways of working
Introducing

Project Re-Boot
Project Re-Boot will invest in new and innovative projects which will support the engagement and re-engagement of participants into sport, particularly people from groups who have been especially impacted by Covid-19. It has three levels of investment:
Team-Up:
We will invite applications in January 2021 that request support from £10,000-£25,000.
All projects must be delivered by 31st March 2022.
Collaboration and partnership working is key to the success of Team Up
While there is no requirement for Partnership Funding, organisations should consider the availability of other sources of funding (including in-kind support).
Activate:
We will invite applications in the spring of 2021 that request support up to £5,000.
All projects must be delivered by 31st March 2022.
Applicants should be aware that partnership funding may be a likely requirement for this investment strand.
---
Have you got questions? Get in touch via e-mail:

 projectreboot@sportni.net
Back to top

↑