More in this section

↓
Capability Elements of Supporting Sport to Build Back Better
What will be available through the Capability Elements of Supporting Sport to Build Back Better?
Supporting Sport to Build Back Better has two main areas of grant investment (Project Re-Boot and the Governing Body Support Programme) and four areas of developing capability for the sporting sector. Additional support will be available to clubs, sporting organisations and governing bodies to develop capability in four additional areas as outlined below.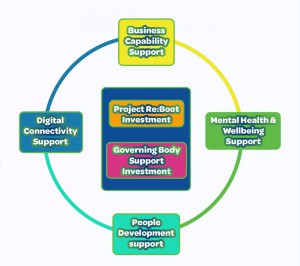 Before you complete and submit your application to Project Re-Boot, click on each of the four areas to find out more about what will be available. We are aiming for these elements to be available from 1st April 2021.
DEVELOPING CAPABILITY
✓ People Development - Supporting clubs to develop a high quality experience for participant, parents, coaches and those who manage the club
✓ Business Development - To provide capability building in business related operations such as strategic and financial planning, risk and crisis management.
✓ Mental Health & Well-being - Providing capacity and capability to raise mental health awareness, support services and resources
✓ Connectivity - To help maximise use of the digital space to connect governing bodies to clubs their members and volunteers
Back to top

↑