More in this section

↓
Children & Young People's Task & Finish Group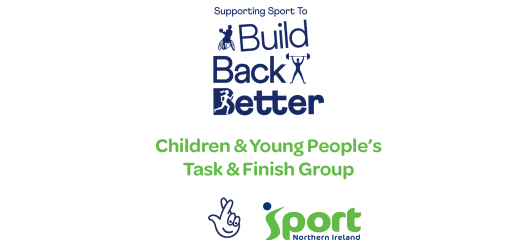 Children & Young People's Task & Finish Group
The Sport NI Board have approved the development of a new National Lottery investment programme Build Back Better to respond to the needs of the Sports sector following the Covid-19 pandemic. Within the new initiatives to be delivered a clear need for a focus on Children and Young People has been identified.
This task and finish group has been established to provide recommendations for working towards ensuring that children and young people are able to access quality sport and physical recreation post Covid-19.
Selection of Members
Members of the Task & Finish Group were selected for their knowledge, experience & expertise in the areas of Supporting Children & Young to participate in Sport and represent the following sectors: primary, post primary and SEN schools, higher & further education, governing bodies of sport, sports clubs, disability sport, district councils and community & voluntary sector organisations providing sport.
Members of Task & Finish Group
| | |
| --- | --- |
| Name | Organisation |
| John Hunter | Community Sports Network |
| John Donnelly | Education Authority NI (EANI) |
| Amanda Mogey | Armagh, Banbridge, Craigavon Council |
| Tandy Haughey | University of Ulster |
| Elaine Reid | Disability Sport NI |
| Karen Kirk | Grosvenor Grammar School/Athletics Coach |
| Sinead Connolly | University of Ulster / Gymnastics Coach |
| Raymond McNeill | Sullivan Upper School/ Badminton Coach |
| Paul Donnelly | GaelFast |
| Paul Coulter | St Patricks Primary School, Ballynahinch Principal |
| Stuart Donald | Bangor Academy & Sixth Form College |
| Stephen H. McCartney | Causeway Coasts & Glens District Council |
| Billie-Jo Irwin | Fermanagh/ Omagh  District Council |
| Leslie McLaughlin | Mid & East Antrim District Council/Every Body Active Coach |
| Conor Cunning | Sport NI |
| Chris Moore | Sport NI |
| Elaine Grant | Sport NI |
Consultation
Consultation took place through online workshops facilitated by Sport NI staff via zoom.  Two main sessions took place on the dates below, with some separate follow up sessions with those that could not attend at the Workshop time.
Phase 1- Workshop 12th August 2020
Phase 2- Workshop 30th November 2020
What was the Task?
The initial task (Phase I) set at the end of Lockdown 1 and prior to the re-opening of schools after the summer break was to identify challenges for children accessing quality sport & physical recreation post Covid 19, provide potential solutions to overcome these challenges, consider how the outcomes might be achieved including what resources & partnerships would be needed to deliver the solutions effectively.
Phase II took place after the Halloween break when schools, clubs and community organisation had some experience of the reality of operating within Covid 19 restriction.  This element focussed on physical literacy; and explored the live challenges to accessing quality sport & physical recreation since education had resumed under new restrictions and Club & Community sport was in a state of ongoing review of restrictions.
Recommendations
Phase I Conclusions
It appears that the major solution to this ongoing crisis requires a multi-agency/collaborative approach to have a cohesive and sustainable effect.  The most supported recommendation from the Task & Finish group was to support regional/hub based coordinators, to meet the bespoke needs of a particular area.  The coordinator's main role would be to set up school/club/community/coach links to improve sharing of spaces and resources and enable physical activity and sport to happen in the area.  Although the aim would be to ensure access for all, there should be a priority to target those most at risk of missing out.
Strong support to have a multi-agency campaign and associated resources to highlight issue.  TV/Social media/infographics with clear messaging around physical activity of all forms. This campaign should include opportunities both online and within schools and home to engage all but in particular vulnerable groups in fun and enjoyable exercise.
Phase II Conclusions
There was a strong consensus that Children & Young People have been disengaged with Physical literacy during the pandemic through various challenges and changes.  It is believed that future work should be based on a collaborative sector wide strategy, using Return to Sport as momentum and a reset button with a renewed recognition of the importance of physical literacy.
Re-engagement of children should be the priority and for this reason a "New Offer" from all partners needs to provide a fresh appealing environment for all to ensure reengagement.
With this comes a need to educate the sector on how to create this new appealing offer (meaningful experience) including capacity building for schools, coaches, parents & volunteers that is easily accessible to all.
There is also clear evidence pointing towards need for 'active/healthy schools programme' in Northern Ireland using a whole school approach linked to Community & Club. This should develop an ethos to ensure Physical literacy is meaningful, personal, inclusive and fun.  Physical literacy should be re-introduced in an educational way to make it sustainable and adopted into curriculum and daily school life and awareness of additional academic, mental health benefits raised. A Designated staff member could take responsibility/co-ordinator role with a possible funding bonus as an incentive.
Guidance for New Applicants
Following online consultation with the Children & Young People Task & Finish Group Phase I & II Sport Northern Ireland have compiled the following Guidance for new applicants preparing to Support Children & Young People within their proposed plans.  Please use these guidelines to help you to shape your application for Supporting Sport to Build Back Better.  Together we can maximise the power of sport to change lives.
Summary
Summary of suggested innovative solutions to ensure our Children & Young People can assess opportunities and guidance for new applicants for Supporting Sport to Build Back Better
Bespoke integrated (Schools/Clubs/Communities) solutions based on local hubs
Each area of Northern Ireland has a very different need depending on its infrastructure including significant differences in urban and rural settings.  Therefore it is critical to design a "hub" based approach where the bespoke needs of an area can be addressed using local knowledge, partnerships, expertise, people and places.
** Therefore it is important that application's show how local needs and existing expertise, people and places (in particular schools, club and Communities) will be connected and utilised to maximise an integrative and effective approach.
Shared spaces
Links between community centres, clubs and schools is more important now than ever due to Covid 19. Local facilities sit empty during the day and could be utilised by schools who are having sportshall access issues or other groups.
**It is important that applications show a strong partnership approach and include solutions to reduce impact of lack of space within schools & clubs by utilising other available spaces. 
Non-traditional methods
Novel ways of working were required during lockdown including use of videos to capture and relay messages, online training and fitness classes (EG Joe Wicks) where essential to keep people engaged & active during lockdown.
** It is important that applications show novel ideas and plans of how to maintain connectivity and participation even when face to face sessions cannot take place.  This may also include the use of new technology, media and resources and upskilling others in using these tools. 
Schools
There is strong support behind the use of schools as the primary driver of quality Sport & Physical Activity for Children & Young People.   This includes support for building capacity and opportunities within school time & through extra-curricular activities.  New messaging is required to maximise the understanding and wider impact & benefits of sport to enhance academic performance and well-being which should be integrated into a wider educational message through the taught curriculum.
**It is important that applications show how schools will benefit from easy access to opportunities in a variety of formats and using alternative and novel sporting/ physical literacy experiences that will reengage a wider number of Children through more meaningful unique, holistic, socially inclusive sporting experiences. Some thought must be given to how these experiences will be coordinated with as little demand on school staff time as possible and show incentives to participation for children, staff and the School as a whole.   
For information on Project Re:Boot – Team Up: Click Here
Back to top

↑