More in this section

↓
Return To Sport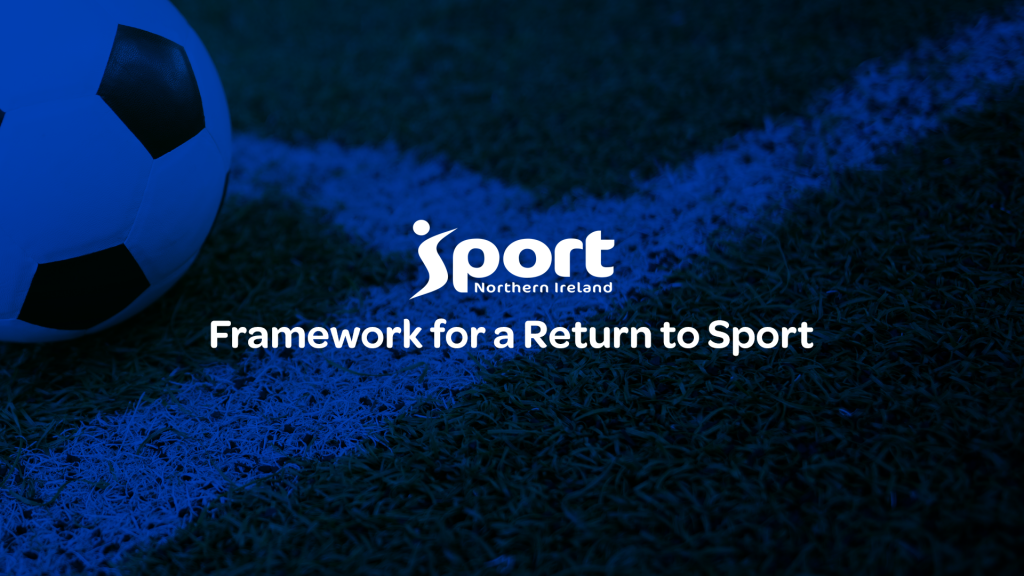 Welcome to the Return to Sport webpage, for all the latest updates and relevant information please see below.
---
NI Executive Update 15th February 2022
The removal of COVID restrictions means that there are no legal obligations in relation to participation in sport and physical activity.  The below information is provided as guidance, as it will be appropriate for participants and organisers to consider measures that can be taken to minimise the ongoing impact of COVID.
Please remember that venue operators may impose conditions on facility users that go above and beyond legal requirements to safeguard their staff, the public and other users.
Good practice guidelines are outlined below.
Outdoor and Indoor Sporting Events
For the event organiser/venue operator:
1. A risk assessment should be carried out as appropriate:
To determine the maximum number of people permitted to attend an outdoor gathering, in a non-domestic setting, the organiser or operator should carry out a risk assessment.
The number of people permitted to attend an indoor gathering, in a non-domestic setting, is determined by a risk assessment, carried out by the organiser or operator. Indoor gatherings, in non-domestic settings, of 15 people or fewer, do not need a risk assessment.
The organiser should take all reasonable measures to limit the risk of transmission of the coronavirus.
It is important that indoor spaces are well ventilated at all times, by leaving doors and windows open. Frequently touched surfaces, such as door handles, should be cleaned regularly.
Where possible, you should maintain social distancing, as well as good hand and respiratory hygiene practices.
2. It is strongly recommended that, given the high transmission rates of the Omicron Variant, everyone attending a sporting event should take a Lateral Flow Test prior to attending.
3. Venue operators should promote and encourage the wearing of face coverings on the way to, during and when leaving an event. It is strongly recommended that all those present at a sporting event wear a face covering at all times including staff, club officials and spectators.
4. Other mitigations should be considered to reduce the risk of transmission including one way systems and sufficient queuing arrangements to avoid congestion.
5. Ticket purchase should be advance, use of cards and scanners are preferred and handling of cash or paper tickets should, where possible, be removed.
6. Good hygiene, including hand sanitising, is strongly recommended and venue operators should ensure sanitisation stations are widely available and regularly filled.
7. Good communications is essential and venue operators should ensure that attendees understand, in advance attending an event, what to expect and regularly remind attendees at the event of the need to fully comply with COVID mitigations including wear face coverings, practicing good personal hygiene and limiting social interactions.
8. Sports clubs and venue operators should take all reasonable measures to reduce the risk of COVID transmission.
For individuals:
1. Everyone attending an indoor or outdoor sporting event should:
· Take a Rapid Lateral Flow test before attending each event or gathering. Lateral flow tests are free and provide a result within 30 minutes at home;
· Wear a face covering at all times, including when entering and leaving a venue and for the duration of the event; and
· Limit the number of social contacts you have.
2. Good hygiene including hand sanitising is strongly recommended and individuals should use the sanitation stations widely available at the venue.
3. Individuals attending events should turn up early, are advised to avoid crowded areas, must follow the enhanced precautions put in place by venue operators and follow the instructions given by staff which are in the interest of safety for everyone.
Back to top

↑