Director of performance Peter McCabe talks about the return to sport framework, but first, here is Sport NI CEO Antoinette McKeown to provide some background.
Director of performance Peter McCabe talks about the return to sport framework.
A Framework To Guide Progression Towards A Resumption Of Sport And Physical Recreation in NI.
What is it?
a Guide for Sports, giving high level essential guidance on planning the resumption of sporting activity;
based on information from a wide range of sources both within Ireland and Great Britain, as well as Europe, Australia and New Zealand;
a Framework that recognises the unique context of Northern Ireland Sport, with many sports operating on an all island basis, others on a UK basis and some as stand-alone NI organisations;
a reference point for all the on-going support available right across the sports sector at all levels, from single participants at local level to clubs and through to high performance and professional athletes.
We Aim to:
guide the progression of sports in Northern Ireland to a resumption of sport and physical recreation;
provide a bridge between the Executive's 5 Stage process and the more detailed protocols required by individual sports;
provide a guidance framework, to assist sport specific protocol development;
create a living document which will evolve as learning and experience are gained both locally and further afield;
structure the Framework into sections relevant to various types of sport based on the nature of the activity and its inherent risk;
emphasise the importance of mental health and well-being of all participants
maintain our collaboration with Governing Bodies and update our guidance accordingly.
Using the Framework
We want Sports to get the best from the Framework when drawing up their specific protocols.
Some points to remember:
where a Sport has already drawn up resumption plan and developed protocols we recommend that they consider their content against the guidance contained in the Framework;
before submitting an enquiry, look at the Frequently Asked Questions section – we will be updating it regularly to reflect the most important issues and themes;
sports clubs and individual participants should in the first instance seek guidance from their own Governing Body;
the Executive will determine the transitions between stages and this will impact on groups of sports differently according to their risk level;
when considering Mental Health and Wellbeing issues, consider using the resources on the Inspire Wellbeing hub
When guidance is sought and received it is important that Governing Bodies build in time to ensure proper communication, understanding and compliance with the advice given.
Any resumption of organised high performance sport training should not detract from the hosts/operator's ability to support ongoing usage of the facility for supporting the NHS or key workers requirements. Any resumption should also not use resources if the demand for those same resources from the NHS remains unmet.
Sport NI will not be the ultimate sign off authority for NGB plans – that issue will be a matter for the Department.
The Flowchart below is a useful guide to how best to apply the Framework
A Tool to help you build your Protocols
We have prepared a tool to cover the first step in the Executive's pathway. This provides a method to ensure alignment with the Executive's pathway .We hope that this will be of benefit to sports and useful to those charged with signing off on the protocol within your sport. Link to tool.
FAQs
Please click here for a list of the most FAQ's
Further Guidance
Having checked the flowchart and FAQs, and used the tool, if you still need guidance from Sport NI please email to returntosport@sportni.net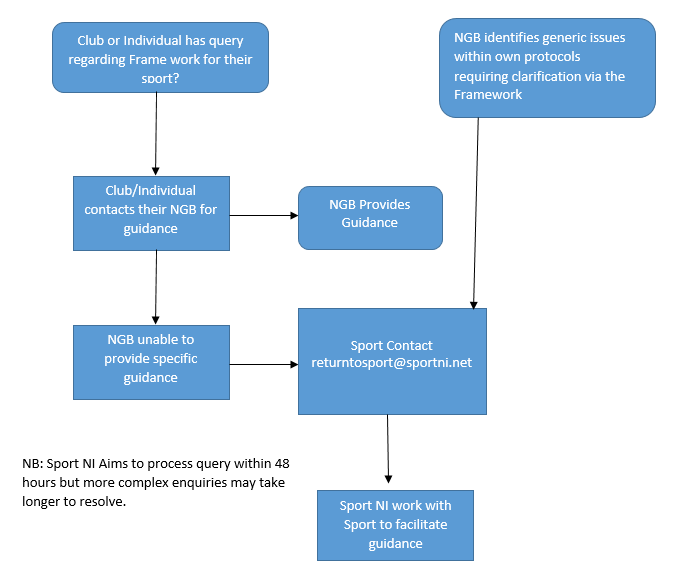 A copy of the Framework for Return to Sport can be accessed here