Sport Northern Ireland is today announcing an investment of over £606k to support new innovative and creative projects that will deliver a partnership approach with other organisations or clubs.
We know that the Coronavirus pandemic has changed our world, and the most vulnerable people have been hardest hit. As we recover we have an opportunity to reset, re-boot and build back better than before.
Thanks to National Lottery funding, 29 projects across Northern Ireland will deliver a wide range of sporting activities to enable people to get back to sport as we live with Covid-19. Each project is specifically designed to help engage and re-engage our children and young people; and to provide more new opportunities for our communities to participate in sport.
Antoinette McKeown, CEO of Sport NI stated "Sport NI is delighted to announce the release of the successful applicants to 'Project Re:Boot – Team Up' as part of the National Lottery funded Supporting Sport to Build Back Better programme. The programme enables sporting organisations to deliver new innovative and projects as we emerge from Covid-19 with an ambition to be stronger and more resilient than ever. We have been encouraged by the volume and quality of applications received and the sector's commitment to building back with inclusion and creativity at its heart. Sport NI would like to thank the National Lottery players for making this funding possible."
There were 93 applications received from 29 different sports across Northern Ireland, Sport NI received applications from all of the Council areas; 31% (29) of those that applied met the eligibility criteria and will be funded, 41% of those funded will be focused on delivering a project that delivers against Sport NI's commitment to inclusion of everyone in sport. Recognising that some organisations will be disappointed to be unsuccessful at this stage, Sport NI is working to release additional grant funding opportunities through Project Re-Boot: Activate and Sport Local.
The dashboard below provides and overview of the successful projects. Further detail can be found here ⬇
Click to image to enlarge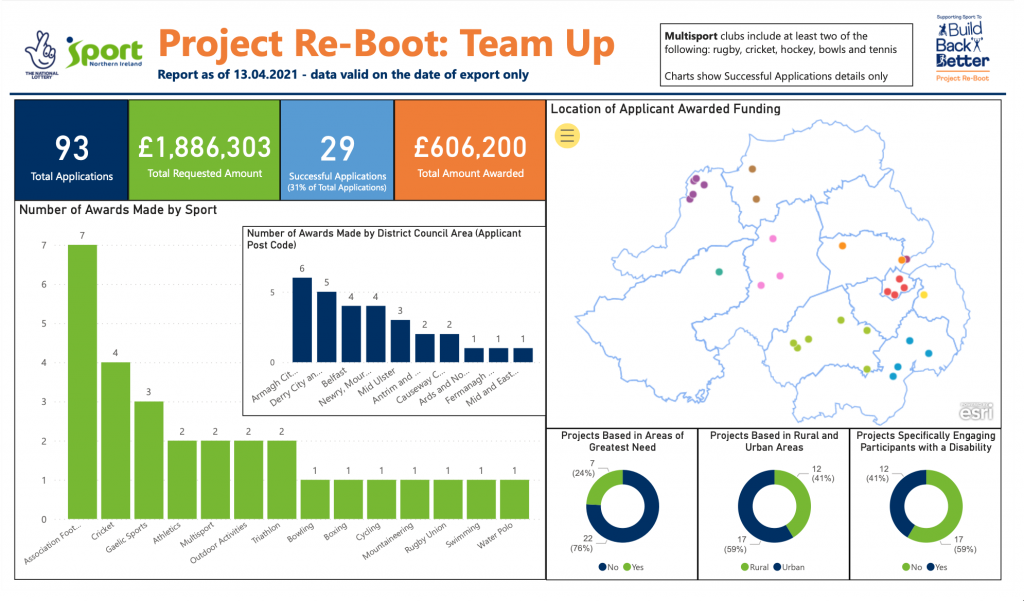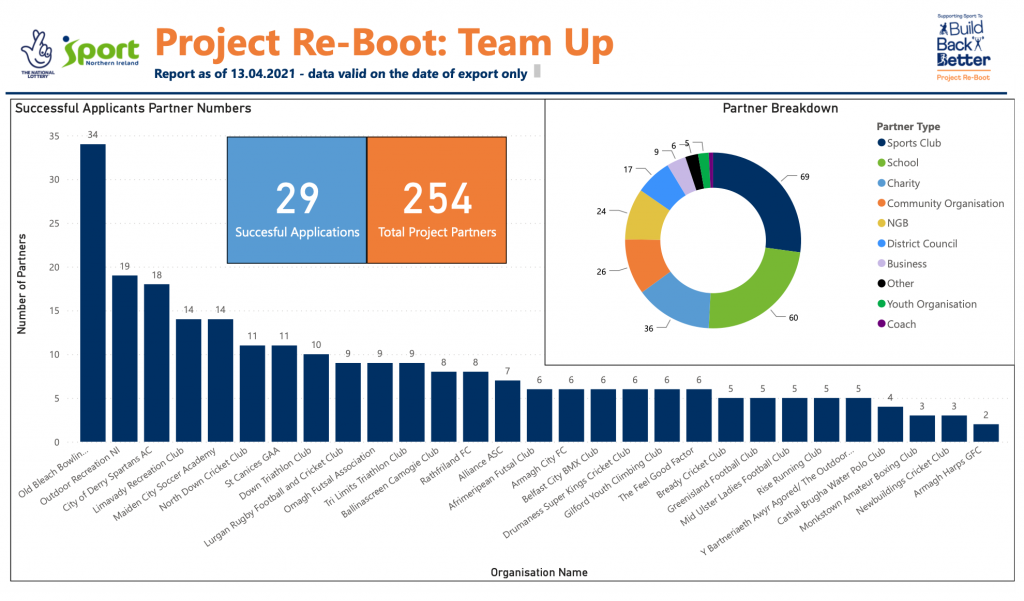 While our investment will be channelled through these 29 organisations we are delighted to see that the reach of 'Project Re-Boot: Team Up' will extend to over 250 other partner organisations – ranging from sports clubs, to schools, community organisations, charities and local businesses.
Sport Northern Ireland understands that as we return to sport from the period of restrictions, that many will be looking for support and additional funding to engage and re-engage club members, coaches and volunteers. Supporting Sport to Build Back Better continues to offer opportunities for Capacity Building through People Development, Business Capability Support, Mental Health & Wellbeing and Connectivity. For those who have missed out on funding through 'Project Re-Boot:Team Up', we are finalising details for the two other strands – 'Project Re-Boot: Activate' and 'Project Re-Boot: Sport Local' which will offer small (£5,000) and micro (£1,000) grants. Keep an eye on our website and social media channels for further details.
Supporting Sport to Build Back Better is funded by the National Lottery.
Fund Award list can be found using the link below: