Equality and inclusion at heart of new five-year plan to maximise the power of sport
The Power of Sport, Sport NI's new five-year plan aims to address inequalities within the sports sector and maximise the power of sport to change lives for everyone in society.
While participation in sport and physical activity has increased in recent years, there is still much more to do, to help more people to be more active, more often. There also remains a significant gap between participation rates for men and women, and boys and girls. Recent evidence shows that women are less likely to have taken part in sport at least once within the last year, 55%, than men, 62%. At post primary school level of those who never participated in sport outside school 45% were girls compared with 31% boys.
Unfortunately, this gap gets wider on our sidelines with women representing just 19.5% of the overall sports coaching workforce and this drops to just 10% for those who coach our World, Olympic or Paralympic athletes.
Participation rates are also lower for people with a disability and those living in the most deprived areas. Sport NI's ambitious new plan seeks to level the playing field for everyone in society, placing equality and inclusion at the heart of its plan for the next five years.
George Lucas, Chair of Sport NI said: "We are delighted to launch The Power of Sport – our new five-year plan. At Sport NI we are passionate about maximising the power of sport to change lives. Sport and physical activity are powerful tools to support mental and physical well-being as well as education and social cohesion. By 2026, we want the power of sport to be recognised and valued by all.
"Women, people living with a disability, minorities and those living in the most deprived areas are underrepresented on our pitches, sidelines, and boardrooms. We're determined this five-year plan will deliver real change in more people being active, more often, whilst ensuring inclusion for all is its lasting legacy."
Antoinette McKeown, Chief Executive of Sport NI said: "I would like to thank our many partners and stakeholders for their input into our new corporate plan. We look forward to working with them as we put this plan into action to increase participation in sport and physical activity and support our athletes to reach, and thrive, at the highest levels of their sports.
"Guided by our cornerstones of building a welcoming and inclusive sports culture; promoting wellbeing; retaining a duty of care to those in the sporting system; and targeting underrepresented groups, and by staying true to our values of collaboration, integrity, excellence, and learning, we will maximise the power of sport to change lives."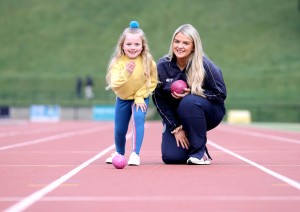 A shining example of the power of sport is top bowler Courtney Meneely, 27. When Courtney took up lawn bowls aged 11, she says she could never have imagined that 16 years later she would be heading to the Commonwealth Games this July.
"Playing bowls has given me so many amazing opportunities. I went to Australia when I was younger and now, I'm going to the Commonwealth Games. The comradery I share with the other girls on the team is so special and now we've all been given this opportunity of going to the Commonwealth Games together for the first time," she said.
The north Belfast mum, who is teaching her daughter Darcie, 5, to bowl, added: "Our management team is all about inclusivity and that has been so encouraging to us as a team. We've been given opportunities that I don't think would have been possible 20 years ago.
"For sport to be even more inclusive will only enhance it; broaden its appeal and open people's eyes to see the talent that exists."
The Power of Sport plan was developed after extensive engagement with stakeholders in sport, health and wider communities, the plan focuses on two strategic outcomes:
People adopting and sustaining participation in sport and physical activity
Our athletes among the best in the world
These outcomes will be achieved thanks to a strengthened Sporting System which focuses on best practice, partnerships and relationships across the UK and Ireland, with people – participants, athletes, teams, coaches, volunteers and leaders – at the centre. Sport NI will continue to support and develop sports across the sector, from grassroots clubs to athletes performing at the highest level.
To read the corporate plan in full please visit: http://www.sportni.net/the-power-of-sport-sport-ni-new-5-year-plan/