Sport Northern Ireland has paid tribute to the work of Northern Ireland's sports coaches, officials, volunteers and clubs at an heart warming ceremony at Titanic Belfast on Monday evening (Monday 24 February 2020).
The #SportMaker Awards are an annual recognition process where Sport Northern Ireland seeks nominations for coaches, officials, volunteers and projects who are helping people to enjoy and benefit from the power of sport.
The evening was hosted by Thomas Niblock (BBC, Sports Presenter) who highlighted the achievements of the 12 award winners and their impact within their environment, making sport accessible, enjoyable and successful for people at all levels.
Minister for Communities, Deirdre Hargey MLA opened the night by welcoming all winners and guests, commenting:
"These awards provide the opportunity to reward the vital and integral role that coaches, volunteers and officials play encouraging people to realise the power of sport. Those recognised are all exceptional people in their own right. The hours of selfless dedication, support and encouragement they have given to their sports have made a very real difference to the athletes and players they have worked with from grassroots participants up to those performing at the highest level."
During the night there was also a Coaching Chain Award presented by Olympic Medallist boxer Paddy Barnes to people who had contributed to his success at Olympic Level. The chain included Jimmy Linden, Patrick Barnes Snr., Seamus McCann, Gerry Storey and John Conlon.
A further noteworthy award was to a Portaferry Judo Club. The Red Belt Challenge was Project of the Year category winner. The project offers children a free Judo suit, transport to the club from the surrounding area and an option to sustain their involvement in the sport by joining the club when they have completed the programme.
Antoinette McKeown, CEO SportNI said;
"It is a tremendous honour for SportNI to host the SportMaker Awards. The SportMaker Awards are all about shining a light on the people who make sport happen for us all, day in, day out, across Northern Ireland.  The work being delivered by all the category winners is truly inspiring."
"Sport NI is passionate about maximising the power of sport to change lives.  Our sports clubs and people are central to creating an accessible, safe and warm environment; to help everyone participate and sustain that participation in sport throughout their lives; while improving our emotional, mental and physical wellbeing, contributing to educational attainment and improving community cohesion."
"On behalf of Sport NI, I wish all the winners continued success and the best of luck in the future."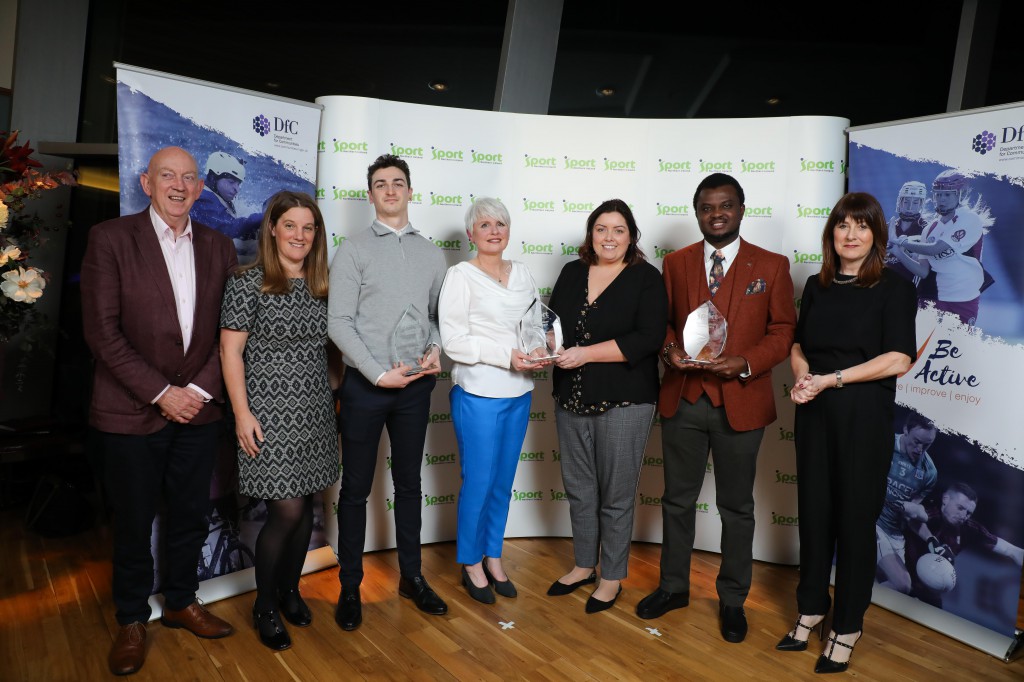 Left to right: George Lucas – Chair SportNI, Kathryn Hill, DfC Director of Active Communities, Michael McShane – Disability Coach of the Year, Joanne McElkerney – Community Coach of the Year, Minister DfC Deirdre Hargy, Adekanmi Abayomi Multi Sports Volunteer of the Year Winner, CEO Sport NI Antoinette McKeown
Please click here to see the gallery of photos