Coaches, volunteers and officials – the unsung heroes who make sport happen – were honoured on Tuesday night at Sport NI's annual SportMaker Awards Celebration Evening.
Returning for the first time since the pandemic, the SportMaker awards recognise the outstanding contribution of coaches, officials, volunteers and projects over the last 12 months and the vital role they play in supporting, developing, and encouraging people to benefit from the Power of Sport.
Eleven SportMakers were recognised for their contribution to their sports at the celebration held in Titanic Belfast.
Each SportMaker has an inspirational story including Community Coach of the Year Aidan O'Neill who has continued to lead the Run Anon Club whilst battling pancreatic cancer, Young Official of the Year Amy Jones who has gone from umpiring local games to officiating on the European stage and Project of the Year winner Anna Pim who setup a CPR and defibrillator awareness course and delivered this to over 300 young people in hockey clubs across the country.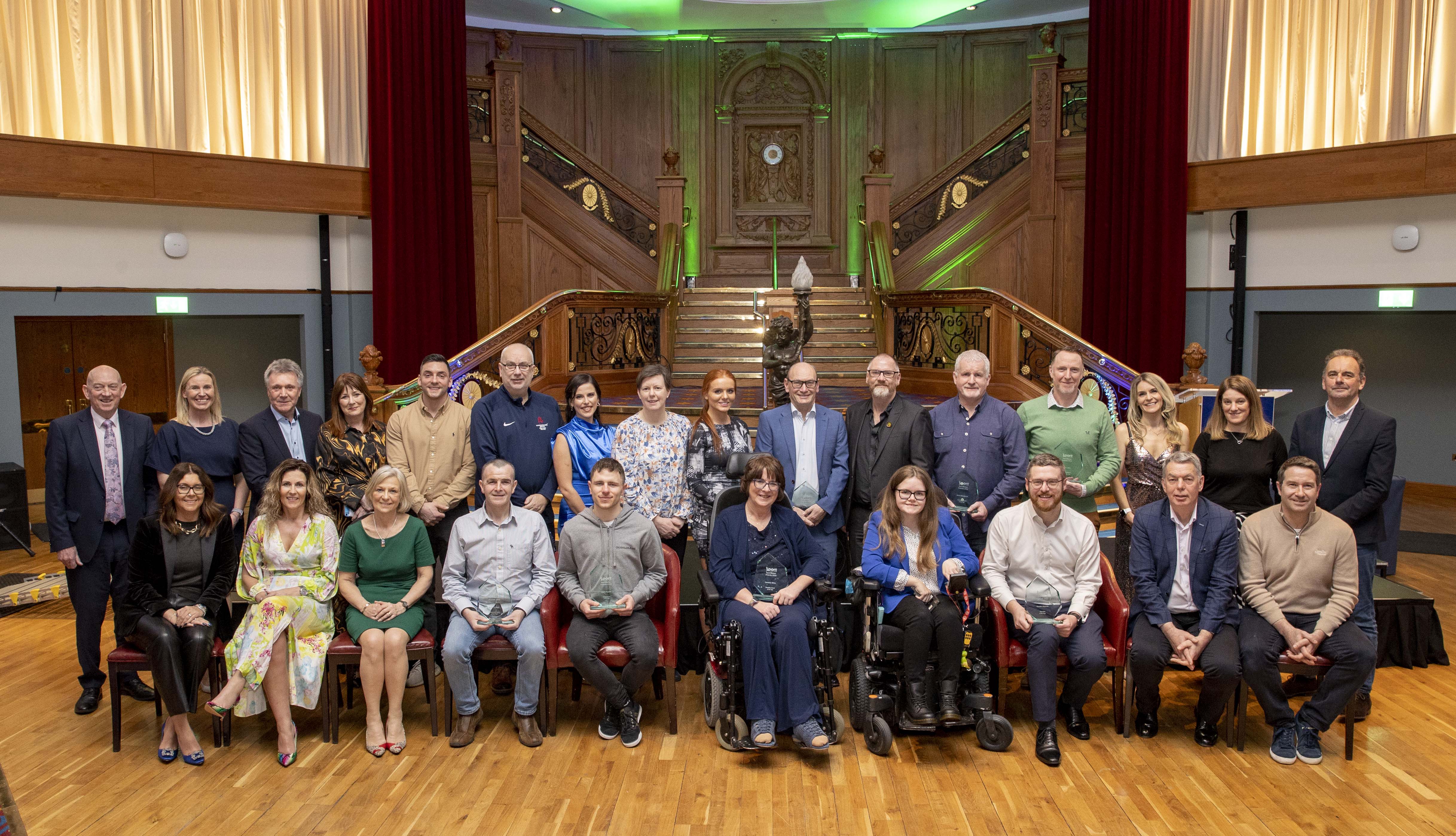 Sport NI Chief Executive Antoinette McKeown said: "The SportMaker awards are an opportunity to recognise and showcase the large number of people who give up their time to facilitate sport across Northern Ireland.
"We have surprised each winner over the past few months with their award and it's a pleasure to be able to invite them to this celebration and thank them on behalf of Sport NI.
"Without coaches, volunteers and officials, sport simply couldn't happen. Our 11 winners have gone above and beyond to support, develop and encourage people to participate and excel in their chosen sports. We want to thank them for helping us in our mission to maximise the power of sport to change lives."
Along with the award winners, other influential figures from the world of sport were in attendance including Luke Carson, Pommel Horse World Champion Rhys McClenaghan's coach and Boccia World Champion Claire Taggart and her coach Glynn Tromans as they took part in Q&A hosted by BBC Sport NI presenter Nicola McCarthy.
Another panel discussion focused on the incredible success of Team NI at the Commonwealth Games last summer. Alison Moffitt-Robinson, the first female chef de mission of the Northern Ireland Commonwealth Games team was joined by coaches Natasha Kelly (Para Triathlon) and Neil Booth (Lawn Bowls) as they spoke about their keys to success after Northern Ireland returned with a record 18 medals from the games.
Chair of Sport NI George Lucas added: "It is truly inspiring to be in a room with so many people dedicated to sport and a privilege to be able to show our appreciation for the 11 winners. Normally coaches, volunteers and officials are the unsung heroes of sport, working quietly behind the scenes, but our SportMaker Awards put them on centre stage.
"I also want to recognise all the nominations we received this year, showcasing just how many inspirational people there are out there on pitches coaching, officiating or helping administer sport in their own way."
2022 SportMaker Award Winners:
Club Performance Coach of the Year: Erroll Lutton (Lisnagarvey Hockey Club)
Project of the Year: At the Heart of the Game (Anna Pim)
Children's Coach of the Year: Kevin Broderick (Banbridge/Rathfriland Karate Club)
Community Coach of the Year: Aidan O'Neill (Run Anon Club, Crumlin)
Disability Coach of the Year: Caroline Millar (Antrim All Stars Boccia Club)
Performance Pathway Coach of the Year: Mark Kirk (Athletics NI)
Volunteer of the Year: Gareth Sharvin (Saul GAC)
Technical Official of the Year: Liz Glover (Athletics NI)
Young Coach of the Year: Harry Isaacs (Omagh Judo-Ka Club)
Young Technical Official of the Year: Amy Jones (North Down Hockey Club)
Young Volunteer of the Year: Rachel McClean (Nettlefield Multi-Sports Facility)
To find out more about our 11 winners, please visit: http://www.sportni.net/sportmaker-awards-winners-2022/
To see all the images from the evening, please our Facebook page: https://www.facebook.com/media/set?vanity=sportninet&set=a.657931979676441
Caption 1: (L-R) Alan Curran, People Development Manager, Sport NI; Antoinette McKeown, Sport NI CEO; Kathryn Hill, Director of Active Living Division, Department for Communities; and George Lucas, Chair, Sport NI.
Caption 2: Group photo of SportMaker winners and panellists on the Titanic staircase.