More in this section

↓
Pathway out of Restrictions for Sport: Update 16 April 2021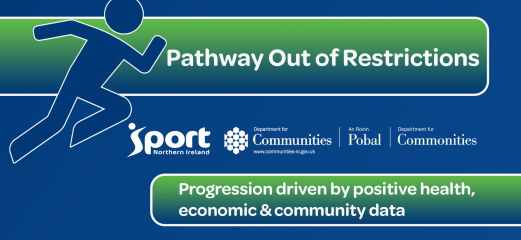 Pathway Out of Restrictions for Sport: Update 16 April 2021
The NI Executive made further announcements regarding the Pathway out of Restrictions for Sport on 15 April 2021. These announcements relate to sport below elite level and provide dates for movement to Phase 2 sub-steps (b) outdoor training in squad groups and (c) outdoor competitive sport without spectators. Further information is available below.
Until 23rd April
Only outdoor sport in groups of 15 and organised by a club, individual or individuals affiliated, in each case, to a relevant sporting body or to an organisation that regulates and provides advice and guidance to members on matters relating to sport and physical activities is permitted. There must be no competitive sport below elite level.
From 23rd April
The following relates to non-elite level outdoor sport affiliated to recognised sports governing bodies or representative organisations for sport and physical activity
Outdoor sport organised by a club, individual or individuals affiliated will be extended to include squad training.
Activities such as outdoor fitness classes, yoga classes or equivalent should remain at group sizes of 15.
Squad training in some sports may be larger but only to the level that is necessary to prepare for competitive sport. This must not be a signal to congregate squads with much greater numbers than the minimum required to prepare for competition.
Competitive outdoor sport can be organised by a club, individual or individuals affiliated, with numbers (including participants, officials, management and essential support personnel) not exceeding 100 and no spectators permitted.
In many cases competitive sports events can be held with numbers significantly below 100. This should be the norm for many sports. Numbers are set around essential participants only e.g. athletes, officials, coaches. Sports should think about the minimum number of participants required to stage the event safely. The absolute maximum on site at any time should be 100 and in the case of many events will be much less. If events cannot be held within this capped number then they must not take place at this time.
If for example 42 individuals are required to stage an event, sports cannot permit a further 58 individuals to observe. Remember there are to be no spectators at all. Governing Bodies, clubs and individuals are expected to be fully compliant with the regulations and have protocols in place to manage this; this includes protocols for responsible adults who may be involved in drop off and pick up of younger participants.
From 30 April
Individual activities in gyms, swimming pools and other large venues will be permitted. One to one training/coaching (with social distancing) will be allowed and a carer will be permitted to be present where required.
From 24 May, the NI Executive hopes to be able to allow
The resumption of indoor group exercise and training with numbers limited to suit the venue.
Sport NI would expect to be able to provide further detail regarding the return of indoor sports within the next week.
Importance of reinforcing messages to all sports clubs and participants
At every stage in this Pathway, Governing Bodies of sport play a key role to influence their members. Within the NI Executive, sport is currently viewed as a responsible sector with recognised bodies able to control and influence the behavior of participants. In the past week however, there have been examples of sports clubs and organisations running competitions that are not permitted under the regulations, as they exist today. Such breaches do not serve the sport sector well, with complaints being received by the Executive Office, Department for Communities and Sport NI. Apart from building frustration in those who are trying to work within the regulations, these transgressions also, help damage the hard-earned reputation of sport as a responsible sector. The consequence of this is likely of to be a slow-down in the return of sport.
We would ask all sports organisations to regularly review this website and Sport NI social media channels for changes as the Pathway proceeds. If there is a significant change, please communicate to make it very clear to all members (a) what is allowed and (b) what is not.
Elite Athlete definition update and list of elite sporting events
Sport NI will provide an update regarding these issues early next week.
Visit the Return to Sport page for regular updates: www.sportni.net/return-to-sport/
Back to top

↑