More in this section

↓
Elite Events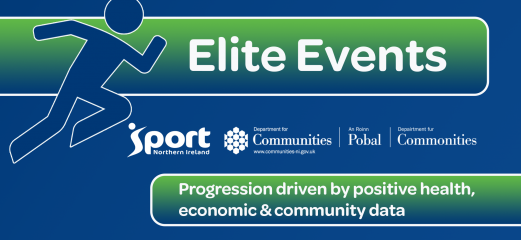 Update 23 September – Elite Events list and changes to the definition of Elite Athlete within the regulations
There are two updates relevant to the current regulations that relate to the highest levels of sport.
Details of these are found below:
Elite Events List
The section of the regulations on international travel will not list specific elite level sporting events. It is a requirement however that a list is maintained of elite level sporting events to be held within Northern Ireland and that this list is updated on an on-going basis.
Sport NI will keep an update of this list here: Return to Sport Elite Competitions (last updated 23.09.21)
Governing Bodies are required to inform Sport NI of elite events so that they can be added to the list. It is populated with information received from Governing Bodies so far.
If a Governing Body plans to hold an elite level event (all participants must be elite athletes) then there is the urgent need to inform Sport NI via returntosport@sportni.net so that the event can be added to the list.
Elite Athlete definition
There has been a review of the definition of elite athlete used within the regulations.
Going forward the definition will be as follows:
"elite athlete" means a person who—
(i) derives all or the majority of their income from competing in sport,
(ii) plays in a professional league or competition,
(iii) is a senior representative nominated by a relevant sporting body, or
(iv) is on an elite development pathway.
For the purposes of the definition of "elite athlete and of regulation 11 (Restrictions on sporting events)" —
(a) "senior representative" means a person who is considered by a relevant sporting body to be a candidate to compete in a major competition;
(b) "relevant sporting body" means—
(i) the recognised national governing body of a sport which may nominate athletes to compete in a major competition, or
(ii) the regional governing body of a sport which may nominate athletes to represent a county in Northern Ireland or the Republic of Ireland in an inter-county league or inter-county competition, where that league or competition is organised by the national governing body of the sport;
(c) "elite development pathway" means a development pathway established by a relevant sporting body to prepare athletes to—
(i) derive a living from competing in that sport, or
(ii) compete in a major competition including the Olympic Games, Paralympic Games, Commonwealth Games, European Championships, World Championships or (in sports without international competition) inter-county competitions organised by the national governing body of the sport;
It is still important to recognise that the purpose of the elite definition is to enable those athletes with major competition during 2021/22 to train and compete. Sports should consider their athlete pool carefully and If elite status is claimed a sport should be able to make a submission to SNI (through the returntosport@sportni.net inbox) from the HP Director / Manager in that sport explaining why the named athlete should be granted this status. This should be substantiated by evidence that this athlete is a realistic candidate for a major competition in 2021/22
Back to top

↑