More in this section

↓
Mental Health Training Courses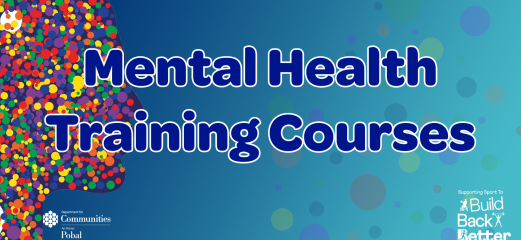 The Sport Wellbeing Hub provides the right help right now, giving you instant access to a range of information, guidance and screening that is tailored specifically to help care for your individual wellbeing needs
Visit the Sport Wellbeing Hub: www.sportwellbeinghub.com
Sport NI offers 4 types of training and workshops which are all free:

Level 1 is designed to:
Increase knowledge around Mental Health & Mental Ill Health;
Understand the symptoms of Mental Health disorders;
Learn how you can support yourself and others.
Start the online course, available

HERE
---

This course goes into more depth than what's covered in Level 1 and focuses on building wellbeing into the club environment.
Workshops are free of charge and are delivered by a tutor via Zoom. They are designed to be attended by 8-16 members of an individual club.
---

This course teaches participants:
How to recognise the symptoms of mental health problems;
How to provide initial help;
How to go about guiding a person towards appropriate professional help.
---

Sporting Chance is a charity set up with the aim of providing mental health support services to professional sportspeople.
They are offering a custom workshop tailored to sports clubs that encourages participants to actively engage in conversations about their own mental health and explore how different lifestyle factors can affect their mental health.  Some of these factors include substance misuse, compulsive behaviours andaddiction, specifically relating to alcohol, gambling and drugs.
Back to top

↑