More in this section

↓
Wellbeing
If you are in distress or despair and urgently need to speak to someone, please call Lifeline:  0808 808 8000

In brief we offer 4 courses, all run online via Zoom, dates for workshops are flexible based on interest and need.
These courses can all be found HERE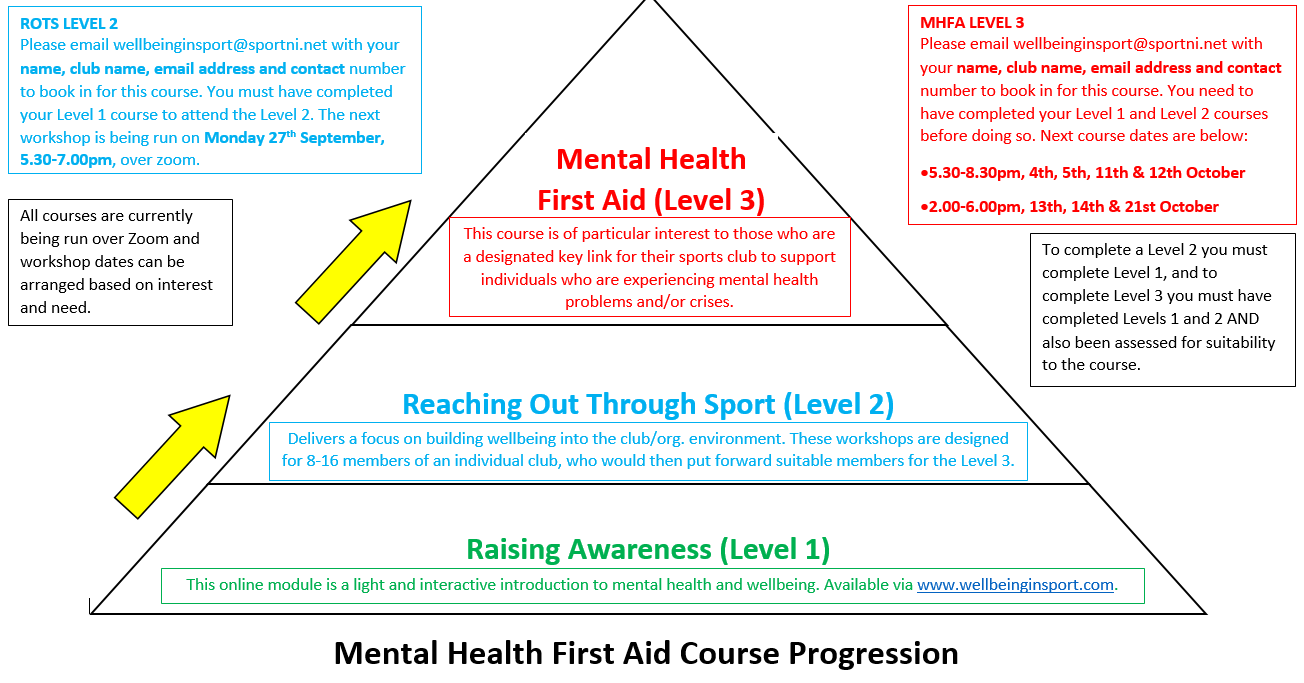 ---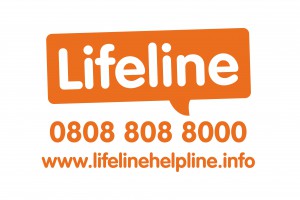 If you are in distress or despair and urgently need to speak to someone, please call Lifeline.
Deaf and hard of hearing Textphone users can call Lifeline on 18001 0808 808 8000. Calls to Lifeline are free to people living in Northern Ireland who are calling from UK landlines and mobiles.] The Public Health Agency also has a list of directories, helplines and services from across NI.  Click on the relevant links below the map to view services.

South Eastern HSC Trust Services
---
---
Sport NI welcomes you to visit and explore the online resources page. You will find an abundance of helpful mental health and emotional wellbeing resources, links, videos and meet our wellbeing in sport ambassadors.
COVID-19 Work and Wellbeing
The following guidance material will assist you maintaining your wellbeing at work during this time, as we support our customers to access vital services.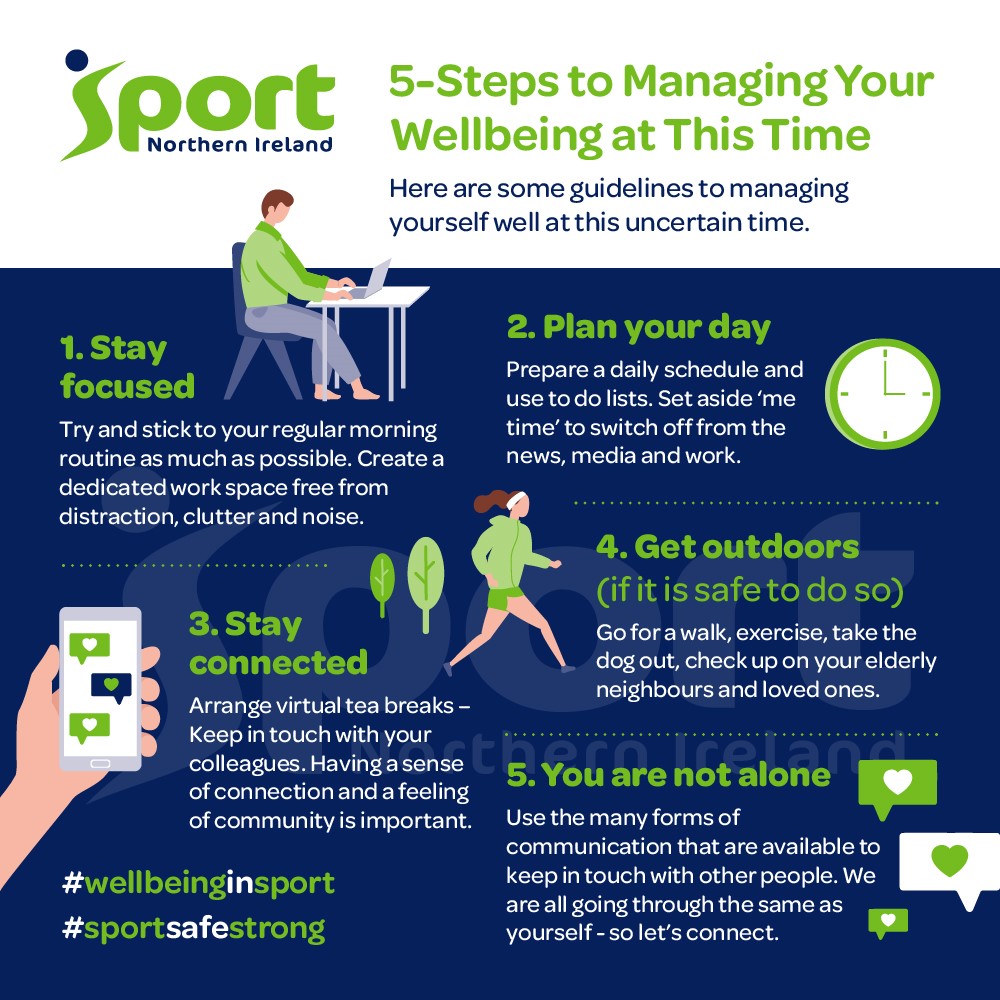 Our Vision for Wellbeing in sport "That everyone involved in sport is aware of the importance of looking after their mental health, and that of others, leading to a healthier lifestyle and positive wellbeing".   What can you do to Promote mental health wellbeing in your club or organisation?
Raise awareness of the importance of positive mental health and wellbeing and how this can have an impact on physical health.
Promote the Take 5 model to develop emotional wellbeing for your members.
Create an environment where people can ask for help and support.
Highlight the importance of training for coaches and volunteers to help them to recognise the early signs of emotional difficulty and know how to respond.
Raise awareness of the risks of self–harm and suicide within sport and what steps can be taken to reduce these risks.
The Wellbeing in Sport Action Plan 2019-2025  provides a commitment to improve the mental health and wellbeing for people involved in Sport in Northern Ireland. Sport has a strong and positive role to play in supporting mental health and wellbeing for all. A holistic approach to mental health is critical to deliver real change and no one agency can deliver that alone.Sport Northern Irelandis resolute in its commitment to a collaborative mental health and wellbeing approach, and in 2019 recruited a Mental Health Coordinator to facilitate delivery of this action plan. The World Health Organisation estimates that one in four of us will experience a mental illness at some point in our lives. Sport Northern Ireland is driven to develop a sustainable culture in the sporting system that supports the whole athlete. We are committed to building cultural and wellbeing capacity with sports bodies and assist in signposting those most in need to the services they require in the statutory and voluntary sector. Sport can play a key role in the health and wellbeing of our communities. Being active is good for both our physical and mental health, and being involved in team activities can create social bonds and friendships. It can also provide an opportunity for people to support each other and identify issues that may be affecting someone's wellbeing.
"As a person who has experienced depression seeking help has really helped me, and I would encourage others to do so. It's hard to reach out but you should do it, it benefited me. Playing football is one of the ways I coped."
(Football player, Derry/Londonderry)
Sport NI alongside PHA partnered with Aware, Action Mental Health and Sporting Chance to deliver a Wellbeing in Sport Pilot programme. The pilot programme ran between April and December 2019 delivering workshops on mental health and emotional wellbeing and also addiction / destructive behaviours in sport. Importantly the workshops sign posted to valuable support and resources that are available. The image below presents a summary of pilot programme findings and feedback from an indepentant evaluator. The pilot programme evaluation report will help shape future learning provision and mental health and wellbeing support by Sport NI across the sporting community.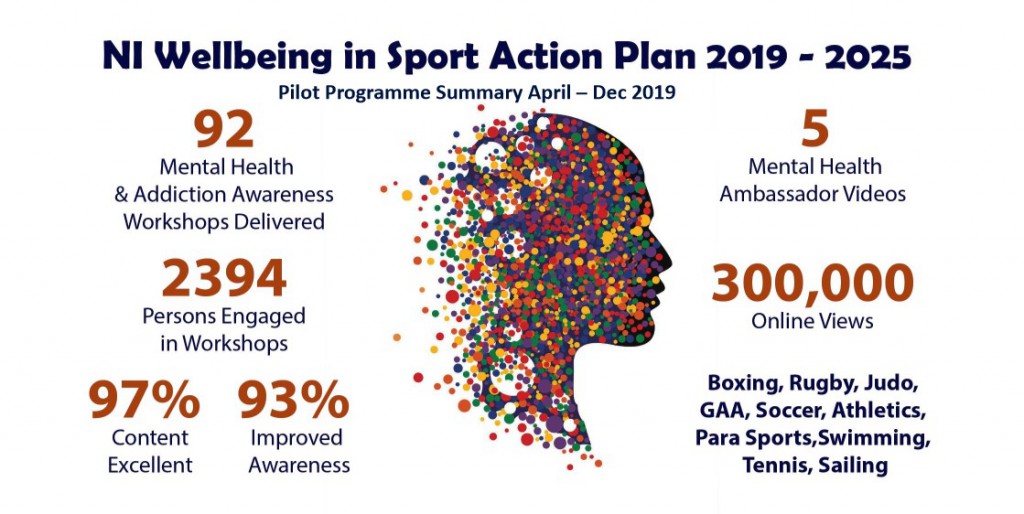 Back to top

↑