More in Sports Medicine

↓
Sports Medicine
What is Sports Medicine?
Sports Medicine is a multidisciplinary area within medicine that focuses on the diagnosis, treatment, rehabilitation and prevention of injury and illness arising from participation in sport and exercise.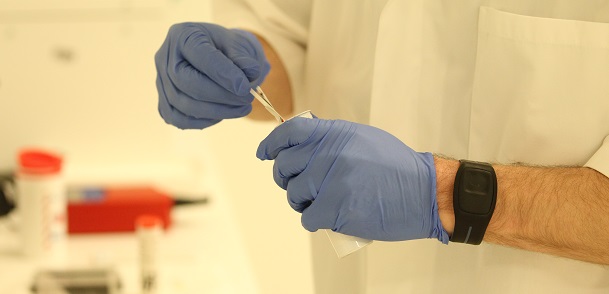 How Can Sports Medicine Help Athletes?
Sports physicians are qualified medical doctors who have undergone extensive post-graduate training and obtained qualifications in sport and exercise medicine. Sports physicians are qualified in the assessment of and non-operative treatment of injuries. The sports physician will also coordinate any further investigations required in the assessment of an injury and, if required, facilitate referral to other specialists. Within the Sports Institute the sports physicians are also ideally placed to advise on the prevention of illness and to provide prompt expert medical care when this is required. Sports physicians operate best as part of a multi-disciplinary team and in SNISI our sports physicians work closely with coaches and the rest of their colleagues in the sports medicine, sports science, strength and conditioning, nutrition, performance and lifestyle teams advising on a wide range of medical issues.  These include Concussion and, more recently, on issues around COVID-19.
COVID-19 and Sport
Sport has not been immune to COVID-19 and has adapted to public health advice, adopting a safe return to sport.  With evidence emerging of prolonged rehabilitation, risk of cardiological, renal, respiratory and hematological complications, it is best practice to follow steady resumption of training, paying attention to physical and psychological impact of resuming training after COVID-19 infection.
The scope of this infographic
This infographic and supporting document was created as collaboration between the four Home Country Institutes of Sport Athlete Health group (English Institute of Sport, Sport Scotland Institute of Sport, Sport Wales Institute of Sport and the Sport Institute of Northern Ireland). This has been written taking into account UK Public Health guidelines at time of publication. The guidance is for use by healthcare practitioners and is applicable to performance athletes who have had mild to moderate illness not requiring hospital care.  Those requiring hospital admission merit assessment from a sports physician prior to determining a return to play pathway. The guidance is based on the currently available expert opinion and will be updated as evidence becomes available. It is in publication with the British Journal of Sports Medicine and a link to the text with references will appear shortly.  The guidance and infographic will be updated as the evidence emerges and this will be reflected in the version present on the FSEM website.
COVID-19 Clinical Guidance
If an athlete develops an illness with symptoms likely to be related to COVID-19, they should follow national guidance and speak to their sports physician. That is likely to include a period of self-isolation, testing as per their national guidance and cooperate with contact tracing policies.   In the UK, testing via the NHS can be accessed online via https://www.nhs.uk/conditions/coronavirus-covid-19/testing-and-tracing/ask-for-a-test-to-check-if-you-have-coronavirus/
The athlete should maintain good hydration and a balanced diet.  Additionally, they should contact their sports doctor or local healthcare services if after 7 days, they remain unwell, worsen or develop breathlessness.  In the UK, this can be via the NHS 111 service (dial 111).
Self-isolation or quarantine due to COVID-19 when living with others needs to consider practical aspects such as isolating within one room and to stay there throughout the course of the illness, ensure supplies of food and water are left outside the door, use of a different toilet/bathroom to others and all dirty linen and clothes to be kept in a bag within the room to wash on a hot wash after recovery.
Graduated return to play (GRTP) protocol
A GRTP protocol is a progressive exercise program that introduces an individual back to physical activity and sport in a step-wise fashion.  Any concerns during GRTP must be raised to the supervising medical practitioner.
Key Considerations;
AT LEAST 10 days rest AND 7 days symptom free before resuming any exercise and the GRTP other than walking or activities of daily living.
7 days GRTP is the minimum time to progress, especially in sports of an aerobic nature. Less physically intense sports like golf or lawn bowls may progress quicker.  Experience notes that some athletes take over three weeks to recover.
Before considering GRTP, the athlete must be able to complete all activities of daily living without excessive fatigue and/or breathlessness and walk a minimum of 500m on the flat without getting breathless.
All treatments stopped that may mask symptoms, e.g. paracetamol.
Key clinical considerations:
Some mild symptoms like a cough, mild breathlessness and fatigue may last for weeks after initial illness.
Exercise and progression should cease if concerns are raised.
Some monitoring may add value and we would advocate:
Resting heart rate (RHR)
Rated Perceived Exertion (RPE)
Sleep, stress, fatigue and muscle soreness
Injury-Psychological Readiness to Return to Sport (I-PRRS) relates to psychological readiness to return to sport
Under the GRTP Protocol, the individual can advance to the next stage only if there are no symptoms at rest and at the level of physical activity achieved in the previous GRTP stage.
If any symptoms occur (including excessive fatigue) while going through the GRTP program, the individual must return to the previous stage and attempt to progress again after a minimum 24-hour period of rest without symptoms.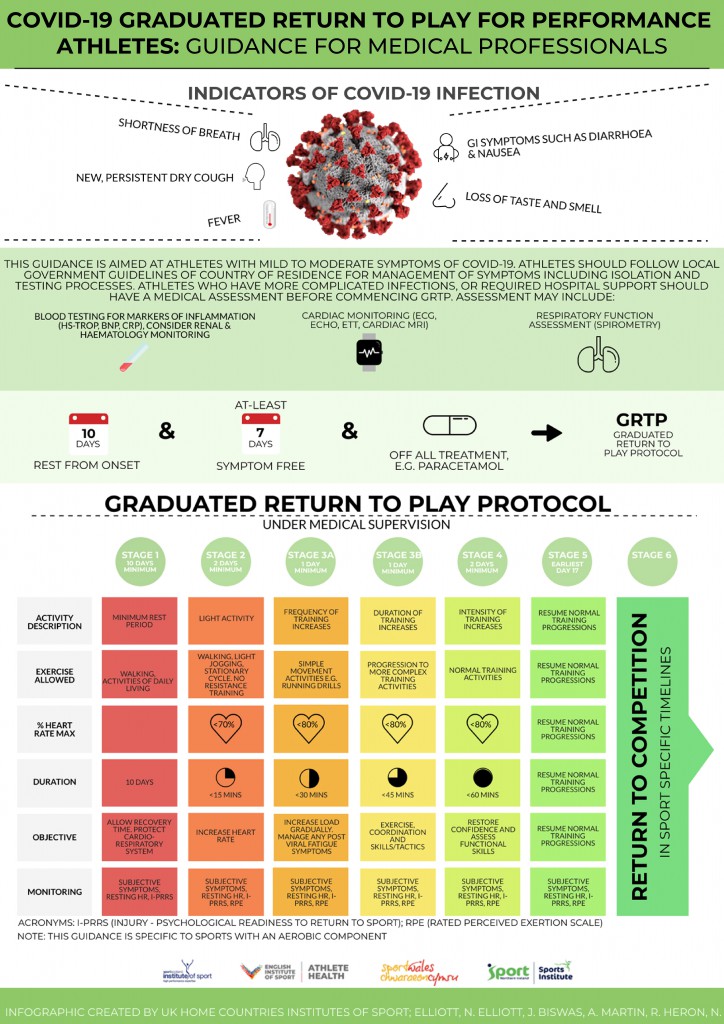 Indicators of serious COVID-19 infection
Admission to hospital
Requirement of supplementary oxygen
Athletes who have more complicated infections or a requirement for secondary care support will need to have a medical assessment before commencing GRTP and will need an adaptation to the process described in the infographic. 
Athletes with comorbidities
Athletes who have medical conditions such as diabetes, cardiovascular disease or renal disease, which may complicate the course or recovery from coronavirus, will need to have a medical assessment before commencing GRTP and may need an adaptation to the process.
The evidence is emerging for further assessment of complicated COVID cases in athletes and relevant guidance and evidence will be linked in this area.
Back to top

↑