More in Sports Physiotherapy

↓
Sports Physiotherapy
Sports physiotherapy at the Sports Institute involves much more than just the treatment of injuries; we are involved in the day-to-day management of athletes and integrate with other members of the high performance team to ensure that athletes perform safely and effectively. Four key areas of sports physiotherapy are:
Injury Prevention
Acute Intervention
Rehabilitation
Performance Enhancement
Injury can significantly affect athletes' ability to train and compete and as such preventing injuries is a key aim of sports physiotherapy. The Physiotherapy Team at the Sports Institute seeks to help athletes become more physically robust through the implementation of injury prevention programmes that are tailored to their individual needs. These interventions focus on ensuring safe and efficient movement and are also highly effective in helping to enhance performance; for example, teaching correct landing mechanics or perfecting sidestepping technique to prevent knee injuries.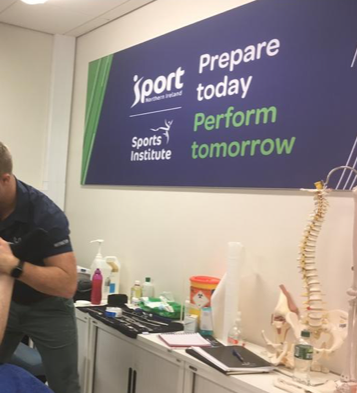 If injuries do occur, the Sports Institute physiotherapists quickly and effectively implement an injury management plan that may involve a wide range of interventions. The Sports Institute is committed to developing effective and innovative approaches to injury management that minimise time lost to injury.
One major strength of the integrated support system at the Sports Institute is the ability to ensure that rehabilitation following injury is highly sport specific and incorporates every element of training and preparation. Sports rehabilitation not only restores sporting function but integrates every aspect of the Sports Institute service delivery into a comprehensive return to sport plan in order to facilitate performance and minimise recurrence of injury.
As specialist Sports Physiotherapists, the Sports Institute physiotherapy staff have advanced knowledge of human anatomy, physiology, psychology and injury management as well as extensive experience in the treatment and management of sports injuries from across a wide range of different sports. All our staff have worked with a range of sports at a variety of international competitions such as Olympic Games, World and European Championships.
All the Sports Institute physiotherapists are members of the Chartered Society of Physiotherapy (CSP) and of the Association of Chartered Physiotherapists in Sports Medicine (ACPSM). Membership of these organisations provides athletes with the assurance that physiotherapy staff work within a set of rules of professional conduct and standards of practice; it also provides the necessary insurance to do so (www.csp.org.uk). All of our Chartered Physiotherapists are also legally required to be registered with the Health Professions Council which provides a greater level of quality assurance mechanism (www.hpc-uk.org).
Resources:
Back to top

↑