More in this section

↓
Supporting Sport to Build Back Better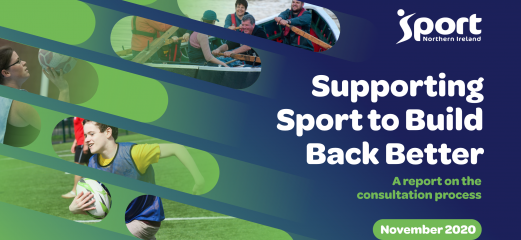 Sport NI believes that there is a clear need for a long term strategic response to the impact of Covid 19 on sport across Northern Ireland. Intervention is needed over the next few years to improve the resilience and capability of the sporting system here.  In order to ensure that our strategic response has the appropriate focus Sport NI engaged in a consultation on our thinking about ways to Support Sports to Build Back Better. A report that identifies the headlines from the feedback gathered and analysis of responses is available below
As a result of this report Sport NI has designed key strategic interventions supported by National Lottery funding to create a programme called Supporting Sports to Build Back Better. This programme will provide a multi-strand approach to supporting the sporting system with a Monitoring and Evaluation Framework being implemented alongside.
Strands
CAPABILITY
People Development:
Supporting clubs to develop a high quality experience for participant, parents, coaches and those who manage the club
Launch January 2021
Business Development:
To provide capability building in business related operations such as strategic and financial planning, risk and crisis management.
Launch January 2021
Mental Health & Well-being
Providing capacity and capability to raise mental health awareness, support services and resources
Launch January 2021
Connectivity
To help maximize use of the digital space to connect governing bodies to clubs their members and volunteers
Launch January 2021
INNOVATION & PARTNERSHIP
Project Reboot
Development of an open grant programme to enable clubs to bring forward innovative project proposals for funding with opportunities to deliver the desired outcomes through partnering and collaboration
Launch January 2021
EXTENSION OF THE SPORTING CLUBS PROGRAMME
Sporting Clubs Year 5
A one year extension to the Sporting Clubs Programme to provide grant support to Governing Bodies to manage club membership fluctuations following the pandemic
Indicative letters of offer issued November 2020. Programme to start April 2021
SUPPORT FOR GOVERNING BODIES
Governing Body Support
A one year programme allowing sports not currently supported through either Sporting Clubs or Sporting Winners to access funding during 2021/22
Launch January 2021. Programme to begin April 2021
SURVIVAL
At the time of the Consultation it was proposed to also run a Survival strand within this programme. With recent NI Executive announcements regarding financial support to the sporting sector, this has now been replaced by a Sport Sustainability Fund Programme that is funded by the Department for Communities. This Programme which will focus on Governing Bodies and larger Clubs will be launched by the Minister for Communities in early December 2020.
Back to top

↑