More in this section

↓
COVID-19 – Survey Report, One Year On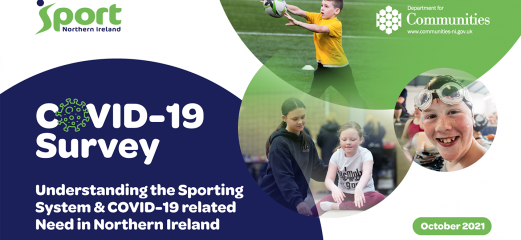 COVID-19 – One Year On - Understanding the Sporting System & COVID-19 related Need in Northern Ireland
Over the summer months, Sport NI engaged with the sport sector to understand how things may have changed as a result of COVID-19; and to gather specific feedback and insight to identify how best to target any new resources that may become available in the next year.
It is clear from the responses that COVID-19 has had a detrimental impact on the sports sector, with a majority of respondents experiencing severe disruption to their organisation with more than half of respondents are now providing less sporting activity compared to pre-pandemic.
A large majority of respondents had received COVID-19 related funding support in the last 12 months which was used for a number of purposes including operating costs, core costs, facility costs and equipment.
Most respondents are seeking to retain current members; and looking to recruit new members to support their recovery from the pandemic. However, concerns around a loss of volunteers and coaches could potentially impact the delivery of activities. A large majority indicated that there are also concerns around the impact of further lockdowns and additional restrictions.
Conversely, some respondents have seized opportunities presented by the pandemic and used periods of restrictions and lock downs to review organisational structures and their sporting offer; to upskill through new learning opportunities and developed greater understanding of digital technologies. Once lockdown restrictions eased, some organisations also reported increased demand for their sporting activities, and increases in memberships.
Respondents primarily noted needing ongoing and further assistance around finding financial support; and with sports development (e.g. attracting members, volunteering, and coaching).
This report now provide up-to-date information on the challenges organisations are still facing and areas where guidance and support is needed in the months ahead.
View the findings of the Report below ⬇️
Download a copy of the Report, please click the link: COVID-SURVEY REPORT
Back to top

↑