More in this section

↓
Project Re-Boot Activate FAQs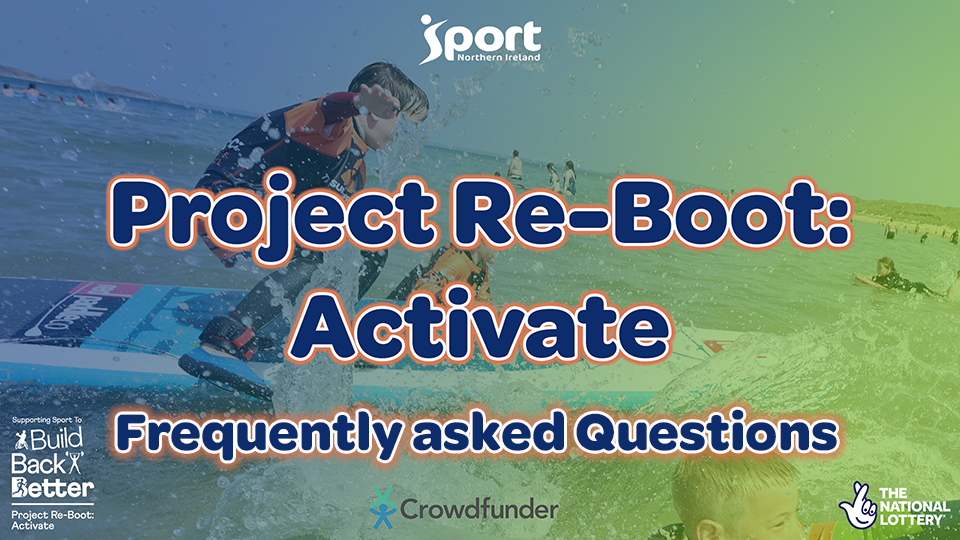 1. What do I need to have in place to be considered for a Sport NI Activate Pledge
Sport NI would expect all applicants when applying to have the following on their campaign page
-          Good  video content.
-          Appropriate images .
-          Text  that details the aims of the project,  how  the project will address an issue that has come about due to the global pandemic, and what the campaign money will be spent on.
-          Appropriate rewards scheme in place for campaign donors.
2. What type of investment programme is Project Re-boot?
Project Reboot is a revenue programme designed to help clubs and organisations recover from Covid-19. Reboot is NOT a capital investment programme. All capital build costs costs are ineligible.
3. What budget has been allocated to Project Re-Boot?
There is approximately £1.6 million of Lottery funds allocated across all three stands of Project Re-Boot: Team Up (Closed – approx. £600k), Activate and Sport Local.
4. How do I apply to Project Re-boot – Activate? And where do I find information?
Activate funding is being administered by Sport NI through the Crowdfunder UK website. This programme requires applicants to crowdfund an amount of money, which will then be 'match-funded' by Sport NI if your project is successful. Information on Activate, including guidance material and advice on 'how to apply' can be found Project Re-Boot: Activate | Sport NI
5. When should my Project Re-Boot 'Activate' application be submitted?
 Demand for the programme is likely to be high. Applications will be accepted up until the programme budget has been fully expended. With a final closing date for applications in March 2022 in the event there is remaining budget.
6. When should my project be completed?
All projects to be completed by 30th June 2022.
7. How does the Crowdfunder UK process work?
In order to receive a funding pledge from Sport NI, applicants must raise match funding for a project through a Crowdfunding application set up by Sport NI in association with Crowdfunder UK. This ensures community support and buy-in for the project and allows applicants to have a potentially larger funding pot through partnership funding. You can contact Chloe at chloe@crowdfunder.co.uk who is our designated support officer from crowd funder to help Northern Ireland applicants.
8. What support is on offer?
If your application is approved, you'll get match funding of up to 50% towards your initial crowdfunding target, up to a maximum of £5,000.
9. What are the benefits of crowdfunding?
The use of Crowdfunding has been found to produce a number of financial and non-financial benefits, such as, your project is opened up to a global audience through a worldwide platform, it's a great marketing tool for organisations. It affords the sports sector an opportunity to source or attract new members/ volunteers, organisations that crowdfund have increased opportunities to showcase their projects to new sponsors/ income streams. Finally financially for every £1 an organisation gets pledged from a grant provider i.e Sport NI , the sports club or organisation levers in £1.81 from the 'crowd'.
10. What happens if we can't raise the partnership funding or pledges?
If the project fails to reach 100% of the target, Sport Northern Ireland's funding pledge will be cancelled. The project owner will be encouraged to review what went wrong and, if appropriate, to attempt to crowdfund again.
11. When do we have to start our campaign if we have been successful in receiving Sport NI pledge support.
If your application is approved, you'll get match funding of up to 50% towards your initial crowdfunding target, up to a maximum of £5,000. This offer will be valid for 4 weeks after the date of notification, if you do not launch your crowdfunding campaign within 4 weeks of notification the offer will be rescinded.
12. Can we keep the other pledge amounts, even if Sport NI withdraw their pledge offer.
If you set your campaign pledge to allow this, then you can.
13. What are the maximum and minimum amounts?
If your application is approved, you'll get match funding of up to 50% towards your crowdfunding target, up to a maximum of £5,000. To receive a pledge from Sport NI, you will need to do two things (the 'fund conditions'):
* Initially raise at least 25% of your target, and from a minimum number of supporters/ donars. The breakdowns of this are below:
* And have 25 unique donors/ supporters .
14. What happens if we exceed the targets?
If the fund conditions are met, Sport NI will pledge up to 50% of your target up to a maximum of £5,000 which means your campaign will then be at 75%. You must then raise the remaining 25% from your crowd, to achieve 100% of your funding target. If you raise more than your target you will have a bigger budget for your project.
15. Do you have to be a tech genius to crowd fund?
You do not need to be a tech genius to crowdfund. There will be lots of guidance and advice on offer, and we encourage all applicants to take advantage of specialist advice from Crowdfunder UK. To get started, please see our step by step guide About | Crowdfunder UK
16. What type of sports club/organisation are eligible for this investment?
The following organisations are eligible:
* Sports clubs who are affiliated to a recognised Governing Body of Sport*
* Community organisations who deliver sport as a primary activity
* Charity organisations who deliver sport as a primary activity
*You can see the full list of recognised sports and Governing Bodies Recognised English and UK ngbs 
17. Do project partners also have to be recognised by Sport NI?
No. Project partners do not have to be a recognised organisation or sport. Partners can be from a wide range of sources to help facilitate creative and innovative ideas.
18. Can Governing Bodies for Sport apply to Project Re-Boot?
No, Governing Bodies cannot apply. Activate has been designed to support clubs and community groups. However, Governing Bodies could support a member club with an application or be a named partner.
19. Can my organisation apply to all three Project Re-Boot strands?
Yes, clubs and organisations can apply to all three Project Re-Boot Strands.
20. Can my club or organisation take the lead on an 'Activate' project, but also be a partner in another Activate project led by another organisation?
Yes. A club or organisation can be a partner in other Project Re-Boot applications, as well as being the lead applicant on another application.
21. Are capital costs eligible?
The vast majority of capital costs are ineligible under Project Reboot – Activate. However, Sport NI may consider applications which include smaller capital items up to the value of £1000 (such as equipment), but only if those capital items can be deemed essential to delivering a project proposal. Sport NI recognises the need for continued investment in sports infrastructure and hopes to publish details of new capital funding opportunities during 2021-22
Back to top

↑