More in this section

↓
Project Re-Boot Activate FAQs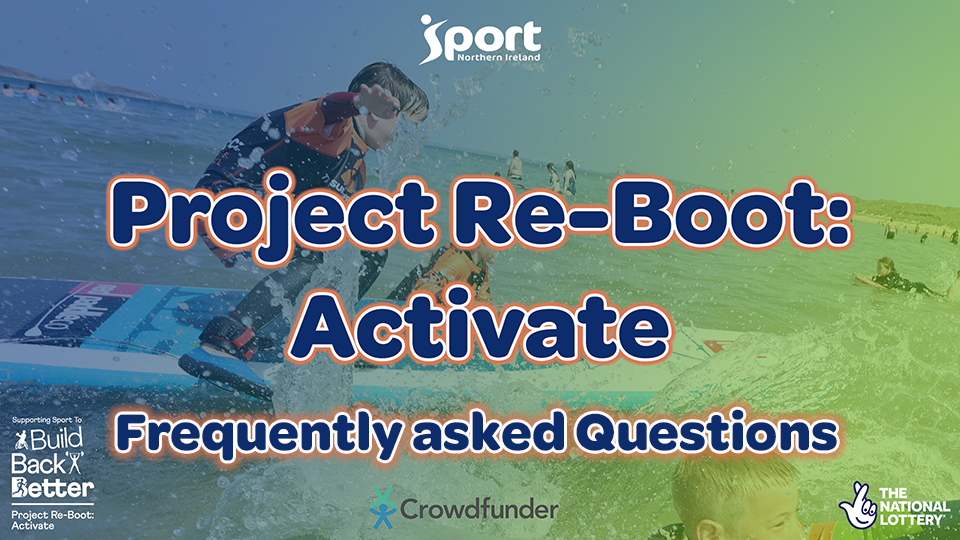 1. What do I need to have in place to be considered for a Sport NI Activate Pledge
Sport NI would expect all applicants when applying to have the following on their campaign page:
-   Good video content (a good video helps to promote your project) and/or
-   Appropriate images.
-   Text that details the aims of the project to include:
•   How the project incorporates new or additional activity e.g. new sessions for girls, training for new coaches, establishing a new team or section.
•   How it will address an issue that has come about due to the global pandemic,
•   What the campaign money will be spent on.
•   Appropriate rewards scheme in place for campaign donors.
N.B. Campaigns requesting the full level of match funding from Sport NI (ie £5,000) must include a bespoke project video which outlines who the clubs is, what the project is about, what the project will deliver, why you need funding and how you will spend the money raised.

2. What type of investment programme is Project Re-boot?
Project Re-Boot: Activate is a revenue programme designed to help clubs and organisations recover from Covid-19 through the delivery of sporting activities. Projects must be new and/or additional and not delivery of normal day-to-day club activity that are designed to get people active and return to sport so as to address and overcome the issues and challenges from Covid-19 being faced by individual clubs and sporting organisations. Applicants are required to specifically identify the issues or challenges they are currently facing as a result of the pandemic and demonstrate how the project they wish to deliver will enable them to overcome these challenges.
Project Re-Boot Activate is NOT a capital investment programme. Sport NI will not fund capital build costs and costs greater than £1,000 (per single item including VAT). Ineligible costs are outlined on page 8 of the Activate Guidance document. If your project has a small amount of capital costs to enable the programme to be delivered, it is acceptable for these costs to be exclusively covered by the portion of funding raised by your crowd.
Programme Information Guidance Here
3. Are capital costs eligible?
The vast majority of capital costs are ineligible under Project Reboot: Activate. However, Sport NI may consider applications which include smaller capital items up to the value of £1000, including VAT (such as equipment), but only if those capital items can be deemed essential to delivering your sporting activities
If necessary, you may use the portion of funds raised by the crowd to fund some capital costs, however Sport NI funding must only be used to cover eligible revenue costs. All costs, both revenue and capital, must be associated with an activity programme designed to help your club / organisation recover from Covid-19.

4. What budget has been allocated to Project Re-Boot?
There is approximately £1.6 million of Lottery funds allocated across all three stands of Project Re-Boot: Team Up (Closed – approx. £600k), Activate and Sport Local.
5. How do I apply to Project Re-boot: Activate and where do I find information?
Project Reboot: Activate funding is being administered by Sport NI through the Crowdfunder UK website. This programme requires applicants to establish a crowdfunding campaign and raise an amount of money, which will then be 'match-funded' by Sport NI if your application to Sport NI is successful. Information on Activate, including guidance material and advice on 'how to apply' can be found at Project Re-Boot: Activate | Sport NI.
6. How should we set our campaign target and match funding from Sport NI?
Your published campaign target is inclusive of the support you wish to receive from Sport NI. Sport NI will pledge 50% of your campaign total (60% for those in the highest areas of deprivation or rural areas), up to a maximum of £5,000. The Sport NI pledge will be added to your overall campaign target, which is why your target must be set up to allow for this. The table below lays out total target figures and match funding potentially available.
50% match funding from SNI Eligibility
60% match funding from SNI Eligibility
Total Target
SNI support
Crowd support
Total Target
SNI support
Crowd support
£1,000
£500
£500
£1,000
£600
£400
£5,000
£2,500
£2,500
£5,000
£3,000
£2,000
£8,000
£4,000
£4,000
£8,000
£4,800
£3,200
£8,333
£5,000
£3,333
£10,000
£5,000
£5,000
£10,000
£5,000
£5,000
7. When should I make my project live on the Crowdfunder Platform?
We strongly recommend preparing and submitting your campaign in draft mode, without going live. This means you can receive initial feedback on your project and campaign page, making any amendments to it prior to the crowd engaging with it. It can be problematic making changes to rewards for example if you have gone live, as some of these rewards may already have been availed of by your crowd.
Not going live with your campaign until receiving 'Review' status feedback from Crowdfunder UK and Sport NI also means you can be more assured that when you launch your campaign page it will be as polished and engaging as possible; and enables you to maximise the length of your campaign

8. When should my Project Re-Boot 'Activate' application be submitted?
Demand for the programme is likely to be high. Applications will be accepted up until the programme budget has been fully expended. The final closing date for applications will be 20th March 2023 in the event there is remaining budget. Sport NI aims to turn around applications for match funding within 7 days following submission however should revisions be required to be successful in your application, please allow time to complete.
9. When should my project be completed?
All projects must be completed by 30th June 2023.
10. How does the Crowdfunder UK process work?
In order to receive a funding pledge from Sport NI, applicants must set up a project through the Crowdfunder website, before submitting a Crowdfunding application set up by Sport NI in association with Crowdfunder UK. This can be done on the Crowdfunder page by selecting the "Extra Funding" tab at the top of the page and then selecting Northern Ireland. You can contact Chloe at chloe@crowdfunder.co.uk who is our designated support officer from crowd funder to help Northern Ireland applicants.
11. What support is on offer?
If your application is approved, you'll get match funding of up to 50% (60% for those in the highest areas of highest deprivation or rural areas) towards your initial crowdfunding target, up to a maximum of £5,000.
12. What are the benefits of crowdfunding?
The use of Crowdfunding has been found to produce a number of financial and non-financial benefits, such as, your project is opened up to a global audience through a worldwide platform, it's a great marketing tool for organisations. It affords the sports sector an opportunity to source or attract new members/ volunteers, organisations that crowdfund have increased opportunities to showcase their projects to new sponsors/ income streams. Finally, for every £1 an organisation gets pledged from a grant provider i.e Sport NI, the sports club or organisation levers in £1.81 from the 'crowd' on average.
13. What happens if we can't raise the partnership funding or pledges?
If the project fails to reach 100% of the target, Sport Northern Ireland's funding pledge will be cancelled. The project owner will be encouraged to review what went wrong and, if appropriate, attempt to crowdfund again.
14. When do we have to start our campaign if we have been successful in receiving Sport NI pledge support.
If your application is approved, you'll get match funding of up to 50% (60% for those in the highest areas of deprivation or rural areas) towards your initial crowdfunding target, up to a maximum of £5,000. This offer will be valid for 4 weeks after the date of notification, if you do not launch your crowdfunding campaign within 4 weeks of notification the offer will be rescinded.
15.  What are the maximum and minimum amounts?
The maximum amount for this strand of funding is £5,000. There isn't a set minimum for Sport NI's contribution; however keep in mind that your campaign needs to be supported by at least 25 unique supporters.
To receive a pledge from Sport NI, you will need to do two things:
- Initially raise at least 25% of your target.
- Have 25 unique donors / supporters.
16. What happens if we exceed our target?
Once you have hit your initial target you can chose to add a stretch target to your campaign. If you raise more than your target you will have a bigger budget for your project however Sport NI will not increase its initial pledge.
17. Can I run more than one project and apply for match funding from Sport NI?
You can only apply for match funding from Sport NI once per 12 month period. Should you run a successful project, you are more than welcome to set up another Crowdfunder campaign further down the line to continue your fundraising efforts, however Sport NI would be unable to match fund your second project if it is within 12 months of your initial campaign.
Successful applicants from the first phase of Activate funding, as well as successful applicants from Project Reboot: Team Up are more than welcome to apply for this phase of Activate funding, so long as their campaign aligns with our eligibility criteria and they demonstrate how their new campaign is new or additional to their original project.
18. Do you have to be a tech genius to crowd fund?
You do not need to be a tech genius to crowdfund. There will be lots of guidance and advice on offer, and we encourage all applicants to take advantage of specialist advice from Crowdfunder UK. To get started, please see our step by step guide About | Crowdfunder UK
19. Am I expected to create a video for my campaign page?
If you are applying for match funding in the region of the maximum award amount of £5,000, we would expect you to create a video so as to support your campaign page and help to attract your crowd to pledge on your campaign. The video should be bespoke to the project and outline who the clubs is, what the project is about, what the project will deliver, why you need funding and how you will spend the money raised. Please check out our live campaign page for inspiration from other live campaigns.
20. What type of sports club/organisation are eligible for this investment?
The following organisations are eligible:
* Sports clubs who are affiliated to a recognised Governing Body of Sport*
* Community organisations who deliver sport as a primary activity
* Charity organisations who deliver sport as a primary activity
*You can see the full list of recognised sports and Governing Bodies Recognised English and UK ngbs here
21. Do project partners also have to be recognised by Sport NI?
No. Project partners do not have to be a recognised organisation or sport. Partners can be from a wide range of sources to help facilitate creative and innovative ideas.
22. Can Governing Bodies for Sport apply to Project Re-Boot?
No, Governing Bodies cannot apply. Activate has been designed to support clubs and community groups. However, Governing Bodies could support a member club with an application or be a named partner.
23. Can my organisation apply to all three Project Re-Boot strands?
Yes, clubs and organisations can apply to all three Project Re-Boot Strands.
24. Can my club or organisation take the lead on an 'Activate' project, but also be a partner in another Activate project led by another organisation?
Yes. A club or organisation can be a partner in other Project Re-Boot applications, as well as being the lead applicant on another application.
25. Can other club/community members run their own Crowdfunder page that will contribute to our overall Crowdfunder target?
Yes, other members can run their own crowdfunding campaigns that link into the overall campaign target. To do so, the project owner should email chloe@crowdfunder.co.uk and ask for the 'multiplier option' to be added to your Crowdfunder page.
For more information on multipliers, please have a look at the following article: How does a multiplier work? | Crowdfunder Help Centre
26. Does my club/organisation qualify for Gift Aid?
In order to qualify for Gift Aid, you must be a registered charity. Gift Aid is a government scheme that means charities can claim back 25p for every £1 donated. To add Gift Aid to your campaign, click on the edit project button on your dashboard and go to the Basics section, then scroll down to tick the Enable Gift Aid button. The gift aid box will then be enabled for donations.
27. Is it true supporters can donate Nectar points to our campaign page?
Yes, supporters can donate their Nectar points to your Crowdfunder campaign if you are a registered charity. For more information on the Nectar Donate option on Crowdfunder UK, please see the following: Nectar Donate – for Charities | Crowdfunder UK
Back to top

↑