More in Immune Boosting Recipes

↓
Immune Boosting Recipes
Versatile Vegetable Soup
This carbohydrate rich soup can make part of a perfect post exercise refuelling plan.  It's a basic recipe that can be adapted to use up whatever vegetables you have in your fridge.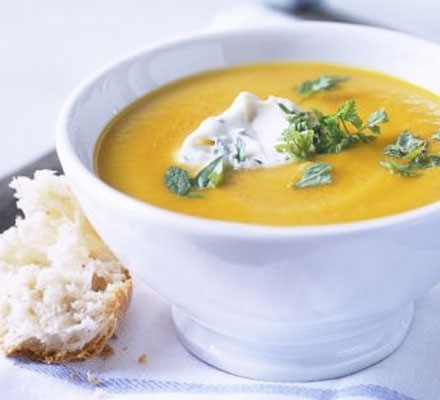 Ingredients:
200g chopped raw vegetables, such as onions, celery and carrots
300g potatoes
1 tbsp oil
700ml stock
crème fraîche and fresh herbs, to serve
10 mins prep; 15 mins cooking
Method:
Fry the chopped raw vegetables with the potatoes, peeled and cubed, in a little oil for a few mins until beginning to soften.
Cover with the stock and simmer for 10-15 mins until the veg is tender. Blend until smooth, then season. Serve with a dollop of crème fraîche and some fresh herbs. Will freeze for up to 1 month.
Superfood Salad with Citrus Dressing
This salad is packed full of antioxidants, a great salad to eat at lunchtime with some grilled meat or fish.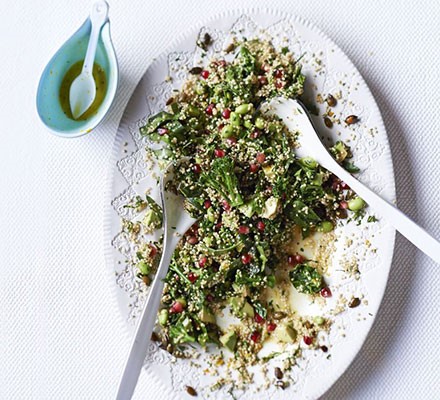 Ingredients:
250g purple sprouting broccoli, cut in half (or into bite-sized chunks)
175g frozen soya beans
2 ripe avocados
250g pouch cooked quinoa
100g bag baby spinach
handful soft herbs (parsley, basil, coriander or mint all work well), chopped
100g tub pomegranate seeds
100g bag pumpkin seeds, toasted in a dry pan until they pop
For the citrus dressing
zest and juice 1 lemon or lime
zest and juice 1 orange
1 tbsp white wine vinegar
2 tbsp Dijon mustard (or gluten-free alternative)
2 tbsp extra-virgin rapeseed oil
Method:
Bring a saucepan of water to the boil and fill a large bowl with ice-cold water. Add the broccoli to the pan and cook for 2 mins, then add the soya beans and cook for 1-2 mins more until the broccoli is cooked but still has a bite. Drain and drop the vegetables straight into the cold water – this quickly cools them, retaining their bite and bright colour. Leave for 1-2 mins until cool, then drain and leave in the colander while you prepare the remaining ingredients.
Dry the large bowl. Add the dressing ingredients with some seasoning and whisk together. Halve, stone and peel the avocados, then cut into chunky dice and add straight to the dressing (this will stop the avocado turning brown). Add the quinoa, spinach, herbs, half the pomegranate and pumpkin seeds, and the cooked vegetables to the bowl, and gently toss everything together. Transfer the salad to a serving platter, scatter with the remaining seeds and serve. Any leftovers will keep in the fridge for lunch the next day.
Smoked Salmon and Lemon Scrambled Eggs
This recipe contains vitamin D containing foods and is an excellent pre or post training snack.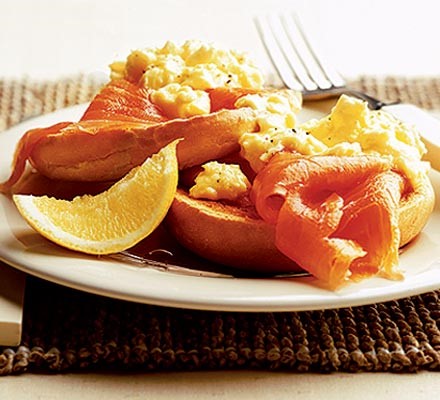 Ingredients:
1 bagel
50g smoked salmon
black pepper, to serve
a wedge of lemon, to serve
2 large free range eggs
6 tbsp semi-skimmed milk
a knob of butter
Method:
Lightly whisk the eggs, milk and a pinch of salt together until all the ingredients are just combined and the mixture has one consistency.
Heat a small non-stick frying pan for a minute or so, then add the butter and let it melt. Don't allow the butter to brown or it will discolour the eggs. Pour in the egg mixture and let it sit, without stirring, for 20 seconds. Stir with a wooden spoon, lifting and folding it over from the bottom of the pan. Let it sit for another 10 seconds then stir and fold again.
Repeat until the eggs are softly set, then remove from the heat and leave for a few seconds to finish cooking. Give a final stir.
Halve, toast and butter a bagel. Drape a slice of smoked salmon on each half and spoon over the scrambled egg. Grind over black pepper and serve with a wedge of lemon on the side.
Back to top

↑